After getting a dedicated keyboard button in Toshiba laptops, Cortana, your digital virtual assistant is now coming to your favourite gaming console Xbox One. With a sole aim to make Cortana even more powerful and widely used digital assistant Microsoft has decided to include in the Xbox One, so that users can use is while playing as well.
Microsoft provided an early look of the updated dashboard of Xbox One which clearly shows Cortana, the digital assistant. However, Cortana will be made available only for the U.S and U.S users for now, as per the announcement made by Microsoft at E3 earlier this week.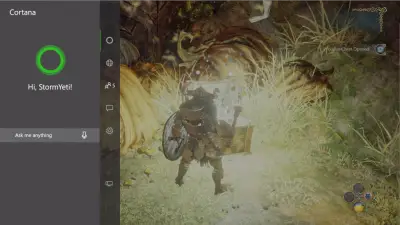 Xbox One is one of the most favourite gaming console being used all over the world and adding Cortana will definitely give gamers an exciting and enhanced gaming experience. It will help the gamers elevate their game whenever needs and they will be able to find more games, challengers and friends on Xbox Live easily with their voice commands. Furthermore, Cortana will also help them accomplishing their common tasks over the console.
Cortana for Xbox One
·         Cortana knows your friends and makes it easier to invite them to play with simple voice commands.
·         It will help you to record the game clip with your voice command and share it with your friends without leaving the game.
·         Cortana will help you finding more information about games like their release date of upcoming games.
·         It will help you getting achievements in your game levels.
On top of that, Cortana will keep you connected regardless of which device you are using, no matter you are working on your Windows 10 PC/tablet or playing games on your Xbox or even using your Android or iOS device. Some of you may have read that Microsoft recently announced that Cortana may come to Android and iOS devices.