In the BUILD 2015 event, Microsoft announced that Universal Windows apps could integrate with Cortana – the personal digital assistant. The integration with Cortana brings new and rich experience to its customers to do more with voice. Viber, Uber, and Shopular are the new applications which partnered with Microsoft to bring their services to Windows 10 adding to the list of already existing 500+ Cortana supported 8.1 apps like LinkedIn and Groupon. The full-packed Windows 10 with Cortana can be experienced this summer.
Cortana in Windows 10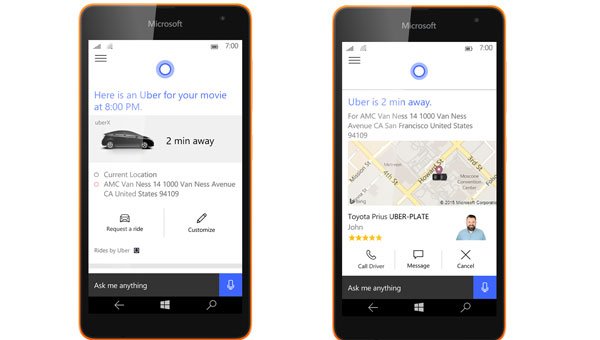 The Voice Command Definition extensibility API lets universal Windows apps to integrate with Cortana. The app with Cortana integration could behave in 2 ways – One, the application can choose to get launched through voice command and the other is to choose to interact with customers within Cortana's user interface canvas. Irrespective on what method an app chooses to integrate with Cortana, she keeps track of your interests, preserves and provides all context she has about a given task.
Consider an use case where you use Viber app to send messages to your friend Steve. The moment you say, "Hey Cortana, Tell Steve Waugh I'm running late using Viber", Cortana instantly understands that you are trying to send a message to Steve Waugh and also you would like to use Viber to complete the task and provide Viber application all the context. Viber can hande this particular request in different way as well, by choosing to handle this specific task by interacting with you through Cortana's user interface. The below picture shows this in action: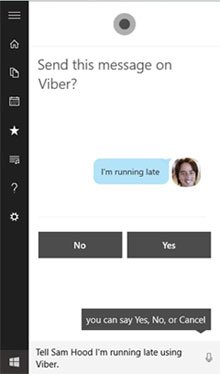 Cortana provides an option to get a ride with Uber. When you choose Uber, Cortana would automatically fill the pick-up and drop-off details and request you a ride. You even have the option to edit the pick-up and drop-off location and can also track the location of your Uber without leaving the Cortana screen.
Another partner, Shopular, brings coupons to Cortana. Shopular which is integrated with Cortana could get instant access to relevant money-saving coupons from your favorite stores, either shopping at a store or online.
The recent Windows 10 Technical Preview Build 10074 helps you get started with building Universal Windows apps that integrates with Cortana using the Voice Command Definition extensibility
Source: Windows Blog.