Microsoft recently announced that it has partnered with Parallels to bring Windows 11 on Macs with M1 and M2 processors. Now, Microsoft has made Windows 11 Arm64 ISO file available for Mac M1/M2, Surface Pro & Raspberry Pi. Users with supported hardware can download the ISO file and install Windows 11 on their systems.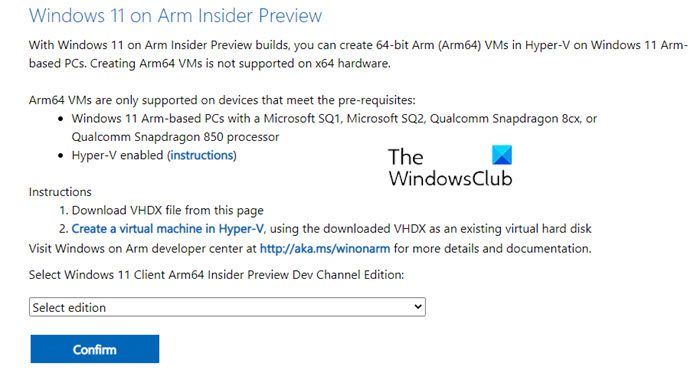 Windows 11 arm64 ISO file is available for Mac M1, Surface Pro, and Raspberry Pi
Windows 11 Arm64 ISO File for Mac M1/M2, Surface Pro & Raspberry Pi is now available for download from Microsoft. You can install Windows 11 on Mac with M1 or M2 processors via Parallels Desktop 18 app. The minimum hardware requirements for Parallels Desktop 18 for Macs are available on the official website of Parallels.
How to download Windows 11 arm64 ISO File
Windows 11 Arm64 Insider Preview build (Beta and Dev channels) is available on microsoft.com for download.
Visiting the Microsoft website.
Select the Windows 11 Insider Preview edition that you want to download.
Click Confirm.
Now, select the language and click Confirm. Now, click Download.
Limitations for Windows 11 Arm-based PCs
In some situations, users with Arm-based computers may face issues with Windows 11 due to certain limitations. These limitations are mentioned in a blog post available on the Microsoft website.
Drivers for hardware, games, and apps will only work if they are developed for Windows 11 Arm-based computers. Hence, if a driver does not work on an Arm-based PC, software or hardware that relies on that driver will also not work.
The games that require DirectX 12 or OpenGL3.3 or greater will not work.
Users may experience problems with the apps used to customize the Windows experience, such as cloud storage apps, input method editors, etc.
Though Windows Security protects users' systems from all types of threats, users still install different third-party antivirus software. If you have an Arm-based Windows 11 PC, some third-party antivirus can't be installed.
Windows Fax and Scan is not available on Arm-based PCs.
That's it.