Dropbox and Microsoft Office Online have introduced a new integration update, that now allows Dropbox users to browse, open and edit their Microsoft Office files without installing the desktop software. The latest update announced by Microsoft and Dropbox now allows users to edit their Word files, Excel documents and PowerPoint files using Office Online and save the changes directly to the Dropbox.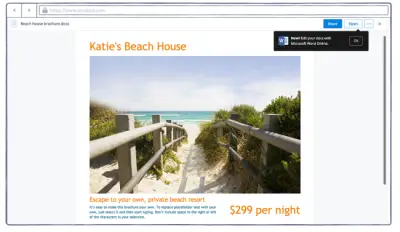 Microsoft Office Online integration with Dropbox
Expanding their partnership, the companies now allow users to edit their files online. The integration is already available and users can now create new Office files, open and edit their old office files online and save them.
Microsoft and Dropbox partnered in November last year allowing the users to access their Dropbox account directly from Office apps installed on all their devices, may it be a tablet, Smartphones or a desktop. The companies later allowed Dropbox users on Android and iOS users to use this functionality.
If you are a Dropbox users, take advantage of this new Office Online integration and edit all your office files right from your web browser. The company has already announced the Dropbox apps for Windows Phones, tablets, as well as an app for Windows 8 with a Metro interface.
This latest integration will make it easier and faster to work with your Dropbox files right from your web browser and improve the productivity further. You can even open Dropbox files using Office Online.
Dropbox also announced that Dropbox for Business customers with an Office 365 license and Dropbox Basic and Pro users can start using this integration right away.