Microsoft is changing the way users can discover progressive web apps (PWAs) to install on Windows 10 computers. As of Edge 84 Stable, users can discover and install PWAs by clicking the (+) button that appears in the omnibox when a website has its own PWA available.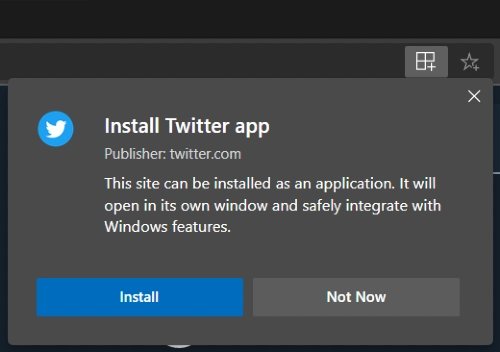 A new way to install PWAs using Edge
Going forward, Edge is implementing a new design for the button that appears in the browser's omnibox indicating that websites like Twitter have progressive web app installable on Windows 10.
TheWindowsClub has spotted a change in the latest version of Edge Canary build (version 86). Thanks to this change, the omnibox now includes a new Apps icon that says 'App Available.'
Upon clicking the new Apps button in Edge's omnibox, a pop-up message appears:
"This site can be installed as an application. It will open in its own window and safely integrate with Windows features."
This message brings us to a second part of the story: App Shortcuts.
Chrome and Edge users can compose tweets from Windows 10 taskbar
To recall, TheWindowsClub had exclusively reported last month that the new Chromium-based Edge wants PWAs to perform common tasks directly from Windows 10 taskbar, courtesy of App Shortcuts.
Thanks to the latest version of Microsoft Edge Canary 86, users can finally compose new tweets, check notifications, send direct messages, and explore trends from the Windows 10 taskbar. Notably, App Shortcuts functionalities are not available with PWAs installed through Microsoft Edge Stable v84.
Goes without saying, the PWA Shortcuts feature is also working in its full glory on Google Chrome Canary (v86). Hence, if you install Twitter PWA from Chrome Canary, you can still compose tweets and check for trends from the Windows 10 taskbar.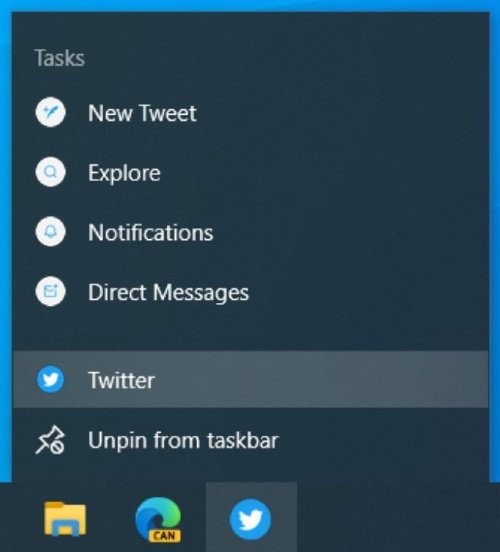 As we said before, the possibilities with App shortcuts support in Edge are practically endless and depending on the functionalities of particular web applications, Windows 10 users can choose to perform common tasks directly from the taskbar.
When will WhatsApp enable PWA?
Let's assume WhatsApp makes its Windows 10 PWA available in the coming days, courtesy of web.whatsapp.com. We won't be surprised if WhatsApp enables one-click access to frequently contacted WhatsApp groups directly from the Windows 10 taskbar.
Similarly, Gmail users may be able to compose emails directly from the Windows 10 taskbar. It remains to be seen how browsers and PWAs evolve in the coming days.
Read next: Google Chrome ships online shopping feature to place orders with just one tap.