Microsoft India has announced an exciting deal for its customers by announcing Smart Exchange Offer – where one can exchange Nokia Asha for Lumia 435 at a discounted price. The new Lumia 435 is a brand new smartphone launched by Microsoft recently. Lumia 435 sports features like dual SIM, 4 inch WVGA LCD display, 5 MP rear camera, 1.2 GHz dual-core processor, 1560 MAh battery and more.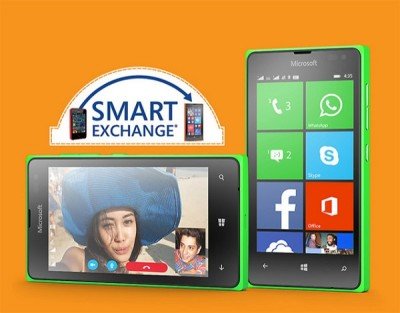 Smart Exchange Offer
Lumia 435 is a latest smartphone by Microsoft which comes with Windows Phone 8.1 loaded with latest Denim update. The phone also gets a free upgrade to upcoming Windows 10 OS when it is officially out.
Microsoft Lumia 435 was launched last month with a price tag of INR 5,999. Customers who are looking to buy Lumia 435 can make use of this offer by trading their Asha 500 phone to avail Lumia 435 for a discounted price. However, the amount of discount depends on type of Asha device one is exchanging.
List of Nokia Asha devices eligible for exchange
The following range of Asha devices gets an assured discount of Rs 1,500/- :
Nokia Asha 500
Nokia Asha 501
Nokia Asha 503
The following range of Asha devices gets an assured discount of Rs 1,000/- :
Nokia Asha 305
Nokia Asha 306
Nokia Asha 308
Nokia Asha 309
Nokia Asha 310
Nokia Asha 311
This smart exchange offer by Microsoft is valid till April 15, 2015 .  During the offer period, all new Lumia 435 phone owners gets a cashback of Rs 1,250 when the purchase is made through PayTM mobile app.
The full terms and conditions of Microsoft smart exchange offer can be found here .