A lot of enterprises are still dependent on IE11, and some relatively new built their applications to work on Microsoft Edge (HTML). Now that Windows 7 support has come to an end, and we have the Microsoft Edge Chromium, the business users are in fresh trouble. The good news is that before upgrading to Windows 10, you can test IE11 and Microsoft Edge Legacy with your applications and websites.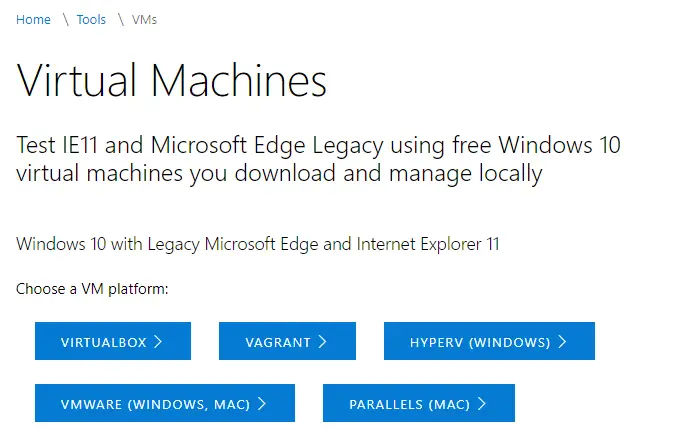 Free Local VM allows you to Test IE11 & Microsoft Edge Legacy
Microsoft is offering Free Windows 10  Virtual Machines (VM), which you can download and manage locally. The VMs are available for platforms including Virtualbox, Vagrant, HyperV (Windows), Vmware (Windows, Mac), and Parallels (Mac). These virtual machines expire after 90 days, which gives you enough time to test and that in a secure, sandboxed environment.
If you do not have a license to any of the professional Virtual machines, I would suggest setting it up using Virtual Box or HyperV. It's free and comes with a snapshot feature. The virtual machine setup is somewhere around 6-7 GB and offers Windows 10  version 1809. Make sure your PC has enough resources to allocate to the virtual machine for it to function correctly.
Once you install the virtual machine, Microsoft recommends setting a snapshot when you first install the virtual machine, which you can roll back to later. While on Windows, you can unzip the VM directly, Mac users will need to use a third-party tool archive software. The username & password to the VM is – IEUser / Passw0rd!. You can always change it later.
Overall, one has to appreciate the effort Microsoft is taking for Businesses dependent on IE  and Microsoft Edge Legacy. Now only you can get the extended support for Windows 7; using this Virtual Machine, you can test how your applications will perform on Windows 10. Windows 10 allows you to keep the older Edge version if you set it up wisely before installing,