Google plans to invest $10 billion (Rs 75,000 crore) in India to help accelerate the country's digital economy. Google on Monday hosted the 6th edition of its annual 'Google for India' event… though virtually this time around, courtesy of a YouTube live stream. Similar to all previous iterations, Google for India 2020 saw some new announcements and expansion plans specifically for the Indian market. India happens to be one of the largest markets for the search giant. Every year, the company hosts its one-day event as a platform to announce new, important updates for individual and business customers alike.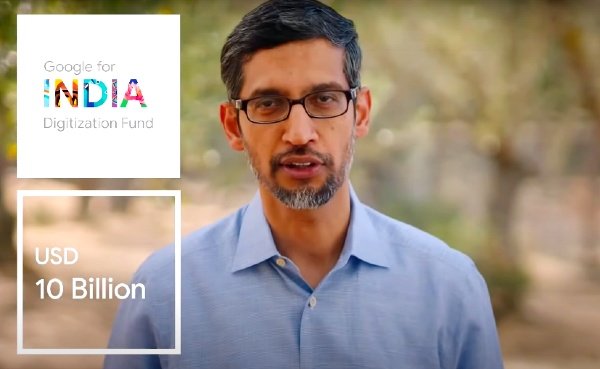 Google investing $10 billion in India
One of the biggest announcements today was certainly about Google's investment and expansion plans for the country to "help accelerate India's digital economy."
"Google's efforts in India have deepened our understanding of how technology can be helpful to all different types of people. Building products for India first has helped us build better products for users everywhere," said Google CEO Sundar Pichai.
For the first few years of Google for India, the company prioritized making Internet connectivity accessible in the country, which eventually led to more Indian-language users accessing various Internet services including online news consumption, remote communication, and digital payment transactions probably for the first time. Since then, we have observed an influx of Google products and services that have become an integral part of our daily activities to a significant extent. For example Google Pay (formerly TEZ), a UPI-enabled wallet app that enables bank-to-bank payment transfers.
"I'm excited to announce the Google for India Digitization Fund. Through this effort, we will invest INR 75,000 crore, or approximately $10 billion, into India over the next 5-7 years," Pichai added.
Google's investment will be subject to equity investments, partnerships, and operational, infrastructure, and ecosystem investments. Meaning, Google will expectedly invest more in Indian companies, which will help India increase its Gross Domestic Product (GDP). However, Google is not the only company that has been spending heavily in the country.
Recently, Microsoft revealed its plans to open its third campus in Uttar Pradesh, which will supposedly create thousands of new opportunities. Earlier, Facebook invested $5.7 billion (Rs 43,574 crore) in India's Reliance Jio for a 9.9 percent stake.
Thanks to this investment, Google aims to enable access to content in Indian languages. Furthermore, Google wants to build new products and services that are relevant to India. Google's investment will also strengthen its ongoing effort in the field of existing technology and AI.