The year 2020 has taught us the actual value and importance of the Internet, which people often take for granted. If there is one thing we have learned this year, it's that the Internet is much more than merely a source of entertainment. Students have learned to adapt to distance-learning and online classroom technologies. Meanwhile, adults have transitioned to working-from-home arrangements in the wake of a pandemic.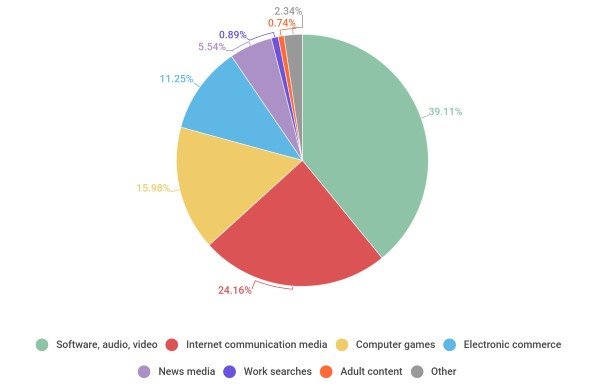 Online music and video streaming up; Gaming down
A report by Kaspersky offers us a glimpse of how kids have spent time on the Internet over the last few months and how the year 2020 will shape children's usage and behavior on the Internet.
"Technology is what is saving us from a complete change in the way of life in a world of a raging pandemic," Kaspersky said in its research. "It keeps the educational process going, relieves the shortage of human communication and helps us to live life as fully as possible given the isolation and social distancing."
The report highlights changes that occurred in children's behavior on the Internet over the past few months. What's more, the report also breaks down kids' Internet activities into several parts and categories. For example, communication, online gaming, news media, etc.
The report also validates a significant boost in online music and video streaming (nearly 40 percent) among children, followed by Internet communication media, computer games, and more. While e-commerce and news accounted for 11 percent and 5.54 percent, respectively.
In what could interesting finding, Job Search accounted for 0.89 percent interest, even more than Adult Content (0.75 percent). While Windows users spent more time watching videos, gaming, and surfing news websites, macOS users preferred chatting and spent more time shopping online through e-commerce websites.
Starting this year, researchers have observed a steady decline in visiting gaming websites. In fact, children are spending more time studying at home and attending classes online. At the same time, their usage of Internet Communication significantly increased in April 2020.
Similar to gaming websites, the popularity of online shopping and e-commerce websites among children also plummeted by April.
Researchers also observed a significant decline in visits to Software, Audio, Video websites in October last year, possibly due to the new macOS version, Catalina. The update had caused issues with video streaming on YouTube, Netflix, Amazon Prime, etc., and affected web browser applications such as Safari, Chrome, Opera, and Firefox.