Microsoft will now redirect Internet Explorer users to Edge if the company's outdated web browser is unable to open modern websites. The company has acknowledged that opening modern websites in Internet Explorer can lead to compatibility issues, which can easily be rectified in Edge. As a result, IE users are now being redirected to Edge while visiting modern, incompatible websites.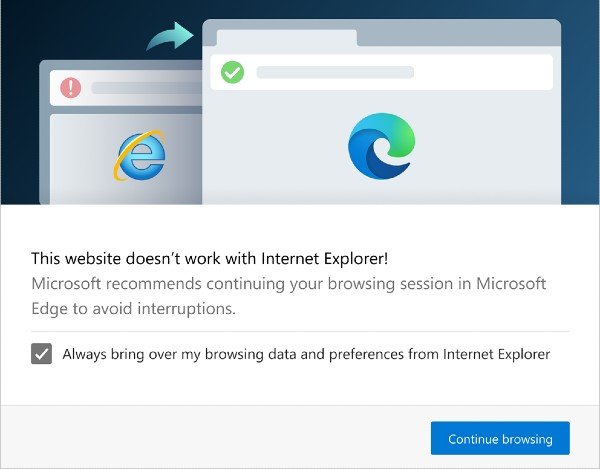 IE users now visit modern sites in Edge
"Many modern websites have designs that are incompatible with Internet Explorer. Whenever an Internet Explorer user visits an incompatible public site, they get a message that tells them the site is incompatible with their browser, and they need to manually switch to a different browser," Microsoft has confirmed.
The technical requirement to manually switch to a different web browser altogether goes into effect starting with Microsoft Edge (Chromium) Stable version 87.
The official Microsoft support document discusses what happens behind-the-scenes in terms of group policies when IE users experience redirection upon trying to open incompatible sites. There are also Group Policy Objects that configure or disable automatic redirection from Internet Explorer to Microsoft Edge.
Upon redirecting to Edge, Internet Explorer users will come across a one-time dialog describing the redirection.
It prompts to carryforward Internet Explorer's browsing data and preferences to Microsoft Edge. Microsoft will import the following browsing data from Internet Explorer:
Favorites
Passwords
Search engines
Open tabs
History
Settings
Cookies
Home Page
The users of Internet Explorer can continue to browse sites in Edge without giving consent to bring over their browsing data and preferences from Internet Explorer. The company is trying to persuade Internet Explorer users into switching to Microsoft Edge as the default browser. Depending on the Internet Explorer market share, this will help the company increase the userbase of Edge.
Microsoft is already in the process of pulling the plug on Internet Explorer 11 and Edge Legacy next year. While, Microsoft Edge Legacy will reach the end of life on March 9, 2021, Microsoft 365 apps and services will stop supporting Internet Explorer 11 on August 17, 2021.