Indian authorities have released a new WhatsApp chatbot in the wake of the novel Coronavirus outbreak across the country. So far, India has identified over 350 positive cases, with the total number of patients likely to increase over the next few days.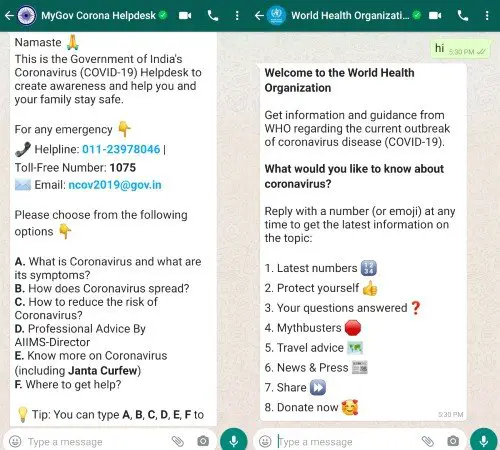 India launches coronavirus WhatsApp chatbot
The Coronavirus outbreak is spreading at an unprecedented rate, so is the misinformation related to it. As a result, the Indian government has come up with a new WhatsApp chatbot.
The chatbot aims to resolve queries people might have about the virus. The Government of India's WhatsApp helpdesk number is +91 90131 51515.
Announcing the initiative, Prime Minister of India, Narendra Modi wrote in his recent tweet:
"Sharing correct information, avoiding incorrect panic. Here is an effort by WhatsApp and @mygovindia to ensure you receive accurate and verified information on Coronavirus."
All you need to do is save the helpdesk number on your phone. In the event that you are using WhatsApp Web, you simply need to follow this URL to connect with India's COVID-19 WhatsApp chatbot. Simply send a message 'Hi' to get the conversation going.
As soon as you start a conversation with the newly announced chatbot, you will receive an automated response. For now, it can only answer a specific set of questions, as follows:
What is Coronavirus (COVID-19), also referred to as the Chinese or the Wuhan virus, and what are its symptoms?
How does Coronavirus spread?
How to reduce the risk of Coronavirus?
Professional Advice By AIIMS-Director
Know more on Coronavirus (including Janta Curfew)
Where to get help?
In case of emergency, you can dial the helpline number 011-23978046 and toll-Free Number 1075 for assistance. Alternatively, you can connect with the authorities over email:
Other ways ask for help and bust the misinformation
In addition to the Indian government, the World Health Organization (WHO) announced its WhatsApp helpline number +41 79 893 18 92 to answer coronavirus-related questions.
The Indian government's Press Information Bureau (PIB) already provides WhatsApp users with a fake news prevention helpline number 8799711259 to bust coronavirus-related misinformation.