Microsoft Advertising today released a study entitled 'Living with the Internet – What is Driving Web behavior'. The study is intended to gain better insights on consumer's web behavior and aid marketers and brands to tap into these insights, the study was undertaken across 11 countries – Brazil, Canada, China, France, India, Japan, Mexico, Russia, Spain, United Kingdom and the US and focused on 7,000 participants aged between 16 and 54 years old.
The study finds that in India, spontaneous activity on the internet has halved in the last two years as consumers, conscious of the addictive nature of the web, try to stay focused and make better use of time spent online.
Most Indian internet users plan their online visits, yet almost half of online shopping and creative activities remain spontaneous:
81 per cent of Indian Internet users said their online information seeking activities i.e. news, product, service information, etc are planned
81 per cent of digital communication activities such as online chatting, VOIP, and social networking are planned
60 per cent of online entertainment including downloading or streaming of videos, playing games or listening to music is planned
44 per cent of users planned to partake in different activities, but instead ended up updating their blog, profile page, or even uploaded photos or videos
48 per cent randomly used their time for transactions such as paying their bills or online shopping
What Indian internet users are doing online:
49 per cent to communicate with others
35 per cent to seek information
22% go online for entertainment in the form of music, video and games
14 per cent to create content in the digital space
12 per cent for online transactions.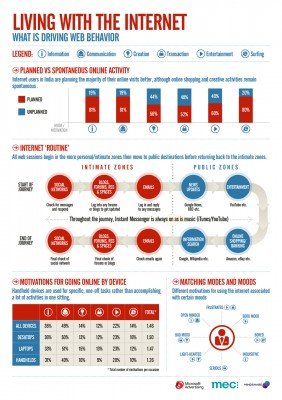 Click on the image to enlarge and view the Infographic.
Thanks Ashish.