Microsoft has been adding services and products that compete with the corresponding lineup from Google. Following in the footsteps of Google. Microsoft has now announced the integration of Microsoft Clarity and Bing Webmaster Tools.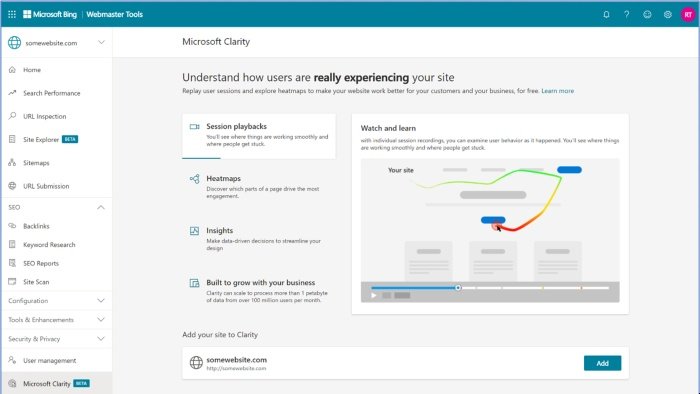 Bing Webmaster Tools gets Microsoft Clarity integration
Though the official launch of Microsoft Clarity happened a month ago, Microsoft has now provided an extensive look at how the two services would work together.
Microsoft says that Clarity would now work as a complementary service for Bing Webmaster Tools. Last month, the company had debuted Clarity, touting it as an entirely free web analytics product that would allow webmasters to understand how users engage with different web page elements.
Clarity also comes with an innovative heat map UI that would indicate potential bugs on the site. According to Microsoft, Clarity would address the usability and debugging aspects of a website. At the same time, Bing Webmaster Tools allows a webmaster to take care of Search Engine Optimization and Search Engine Marketing at large.
The company adds that, although the service is completely available for use now, users can expect additional features in the upcoming months. If you already use the Bing Webmaster Tools suite for SEO and SEM needs, you will have to follow a short sign-up process.
It seems that Microsoft has optimized the setup process for Clarity by integrating it so well with the existing Bing Webmaster Tools dashboard. It says that a user can start using the Microsoft Clarity tags without even leaving the Bing Webmaster Tools interface.
Once the user has inserted the JavaScript tag on the site, they can begin exploring the heatmaps and recordings by opening www.clarity.microsoft.com. In the classic move resembling Microsoft's current trend, Microsoft Clarity would easily integrate with services like WordPress, Google Tag Manager, and Wix.
Through Microsoft Clarity, the tech giant had introduced some of the premium features like heatmap into a free-to-use platform. Thanks to the powerful integration with Bing Webmaster Tools, Clarity can quickly become user favorites.
Bing has been growing as a search engine in the past couple of years. In related news, Microsoft added many smart-search-related features such as recipe snippets, which could benefit the webmasters.
Read: How Microsoft Bing is more secure and private than Google Search.