Yet another study has shown that Internet Explorer 10 beats its competitors when it comes to blocking malware. NSS Labs compared the built-in protection capabilities of Internet Explorer 10 with the latest versions of Chrome, Firefox, Safari and Opera browsers and concluded that when it came to blocking malware, malicious downloads, Internet Explorer was ahead of the pack, followed by Google Chrome, with Safari, Firefox and Opera lagging far behind.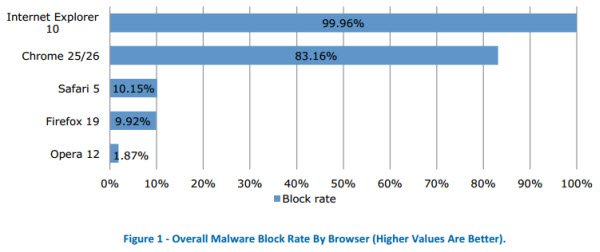 The versions tested were Apple Safari 5, Google Chrome 26, Microsoft Internet Explorer 10, Mozilla Firefox 19 and Opera 12. The testing ran from March 13 to April 9, 2013. Over 96,000 test cases were used in the data sampling. A sample set of 11,296 suspicious URLs were taken, of which 754 URLs were found to be malicious. 550 test runs were performed by these browsers against these 754 URLs, resulting in 18000 tests per browser.
The study found that Internet Explorer 10 had the highest malware block rate at 99.96%, followed by Chrome at 83.16%, Safari with 10.15% , Firefox at 9.92% and Opera at a shocking 1.87%!
A browser with a low malware block rate can put you at significant risk, since malware downloads via web browsers are among the most common cause of computers getting the virus. A browser is the primary vector via which malware is downloaded to the computer. This could happen when you visit infected or compromised sites, click on doubtful download links or phishing links. It is the first line of defense to keep you safe online.
It is therefore important that you take a hard look at you current browser, throw any notions you may have about any browser out of the window, and start using one which offers the best security.