Microsoft has launched the Kinect for Windows website. In fact it's more than just a website – it really kick starts the journey for the Kinect for Windows commercial program that's coming in early 2012.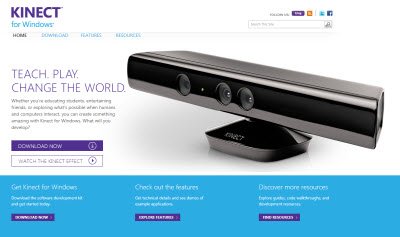 Whether you're educating students, entertaining friends, or exploring what's possible when humans and computers interact, you can create something amazing with Kinect for Windows.
The Kinect for Windows SDK gives developers easy access to the capabilities offered by the Microsoft Kinect device connected to computers running the Windows 7 operating system and Windows 8 Developer Preview.
It includes drivers, rich APIs for raw sensor streams and human motion tracking, installation documents, and resource materials. It provides Kinect capabilities to developers who build applications with C++, C#, or Visual Basic by using Microsoft Visual Studio 2010.
Apart from including support for Windows 8, the updated software brings new features such as faster skeletal tracking, better accuracy rate when it comes to skeletal tracking and joint recognition, and the ability to plug and unplug your Kinect without losing productivity.
On the website you will find links to:
Download KinectSDK.
A video to watch the Kinect effect
Check out the features and technical specifications and se demos of some sample applications
Download more resources, guides, code and walkthroughs.
Download Kinect for Windows SDK
You can download KinectSDK and do more at the KinectForWindows website.