Microsoft has introduced the Microsoft 4Afrika Initiative, which is designed to help improve Africa's global competitiveness. Microsoft has been operating in Africa for the last 20 years and has offices in 14 countries. Just a few weeks back, Microsoft had announced the Mentorship Program In Africa. With the launch of this initiative, Microsoft has reconfirmed its commitment  to exploring new ways to links its growth along with the development of Africa.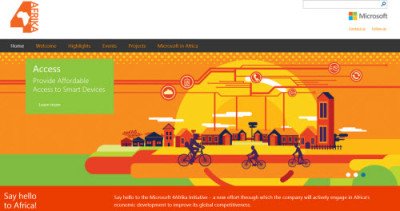 The Microsoft 4Afrika Initiative, is designed to help improve Africa's global competitiveness. Our goal is to empower African youth, entrepreneurs, developers, and business and civic leaders to turn great ideas into a reality that can help their community, their country, the continent, and beyond, says Microsoft.
Microsoft 4Afrika Initiative plans to place millions of smartphones and devices in the hands of African youth, bring 1 million African SMEs online, and help 200000 Africans develop skills for entrepreneurship and employability – all this by 2016!
As a small first, Microsoft has launched the Huawei 4Afrika phone. The smartphone is a Windows Phone 8 device, preloaded with applications designed for Africa.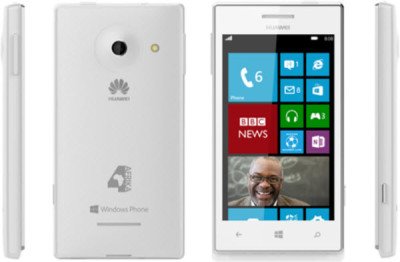 Take a look at this Infographic which talks of the achievement of Microsoft in Africa in the last 20 years.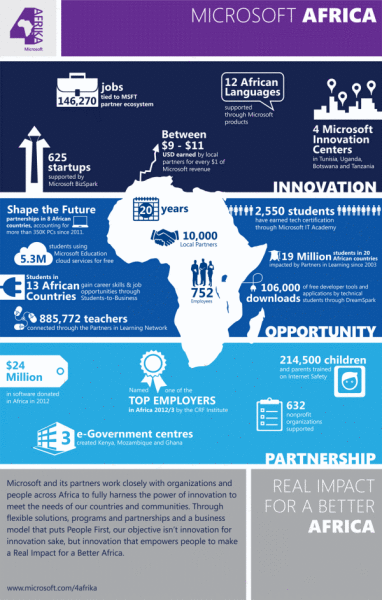 As a part of this initiative, Microsoft has also started The Afrika Academy, an educational platform, aimed specifically at capacity building and skills development.