CCleaner users, please note! Microsoft now detects CCleaner as a source of potentially unwanted applications (PUAs). Ironically, CCleaner itself is a utility that cleans potentially unwanted files and invalid registry entries from a Windows computer. Hence, Microsoft Defender Antivirus now considering CCleaner as a potential threat raises eyebrows.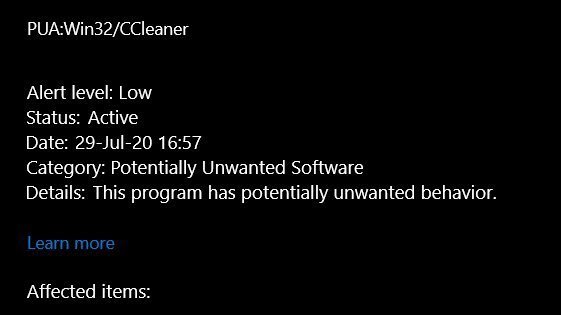 CCleaner bundles Potentially Unwanted Applications
What are Potentially Unwanted Applications, you may ask? Well, PUAs are usually defined as unwanted software programs that often come bundled in free software programs as a package (in this case, CCleaner). There is nothing wrong with free programs as long as they are legitimate ones. However, these programs being PUA may complicate your system's performance to a significant extent.
According to Microsoft Defender Antivirus, a number of CCleaner installers promising a 14-day trial come with bundled applications, eg. Avast antivirus, many of which are unessential for the smooth and proper functioning of CCleaner on your Windows computer. As a result, Microsoft Defender Antivirus detects CCleaner installers that exhibit this behavior as potentially unwanted applications (PUA).
"Certain installers for free and 14-day trial versions of CCleaner come with bundled applications, including applications that are not required by CCleaner or produced by the same publisher Piriform," Microsoft said.
Aiming to protect Windows users, Microsoft further believes CCleaner bundling unwanted software from third-party providers can 'negatively' impact user experience:
"While the bundled applications themselves are legitimate, bundling of software, especially products from other providers, can result in unexpected software activity that can negatively impact user experiences," Microsoft added. This CCleaner installer uses a Nullsoft plugin to download a file named Microstub.exe from avast.com. When it is launched, it provides a preselected option to install Avast Free Antivirus.
Following is the list of unwanted applications bundled with CCleaner installers:
Google Chrome
Google Toolbar
Avast Free Antivirus
AVG Antivirus Free.
Read: Microsoft does not support the use of Registry Cleaners.
Microsoft Defender Antivirus doesn't seem to have a direct problem with bundled software being installed by CCleaner installers. It says:
"Note that these are normal applications that are not detected by Microsoft Defender Antivirus."
To prevent CCleaner PUAs from negatively impacting Windows user experiences, Microsoft recommends users to turn on PUA protection. With PUA protection turned on, Microsoft Defender Antivirus can automatically identify and block potentially unwanted applications. Windows users are also advised to run a full scan so that they can remove specific components detected under Microsoft detection criteria.
Responding to a tweet, CCleaner said it is in touch with Microsoft to resolve this as soon as possible.
Hi, thanks for flagging this. We're in touch with Microsoft to resolve this as soon as possible.

— CCleaner (@CCleaner) July 29, 2020
CCleaner installers are available to download across a number of sources. Plus, it bundles a number of other applications as listed above. While CCleaner now belongs to Avast, the other bundled software does not. Microsoft warns that installing Avast and AVG Antivirus software in the background might disable existing antivirus software including Microsoft Defender Antivirus.
Hence, Microsoft recommends users to refrain from installing unwanted applications bundled with CCleaner installers.
Earlier, not only had Microsoft gently denounced CCleaner, Microsoft Answers had also blacklisted CCleaner links from being posted on their forums.