Microsoft has done something incredible, and that is showing up on Apple's conference stage to announce Microsoft Office for the iPad Pro. It is the first time an employee from the company has shown up at an Apple event in a long time, so it should be clear of where Microsoft's plan lies. Microsoft's Kirk Konigsbauer flew onstage to show off what Office on the iPad Pro is all about. In all honesty, the demo was a solid showing.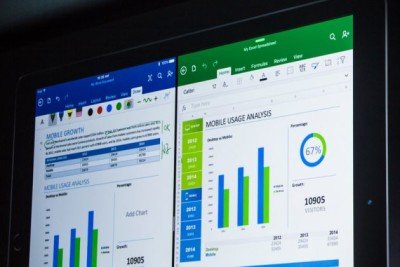 Microsoft Office on iPad Pro
By supporting the iPad Pro with Office, Microsoft is proving that it is serious about having its apps run on every operating system and devices with strong connection to consumers. The coming is proving that services come first in the eyes of the new Microsoft, and that will not change for years to come.
How is Office on the iPad Pro?
Well, it is similar to the Office app on Windows 10 because it now supports the Apple Pencil, and the new multi-tasking feature iOS 9 brings to the table. There are also a few new touch capabilities with the Apple Pencil that we have not seen in the Windows version of the Office app.
What's interesting about the demonstration of the Office app on the iPad Pro, is the fact that there is no huge need for iPad users to switch to the Surface Pro 3 anytime soon. However, we should point out that the basic version of the Surface Pro 3 cost $799 while the basic version of the iPad Pro cost the same price.
A less capable machine on par price-wise with one that is far more capable. If this isn't one of those ridiculous Apple pricing, then we have no idea what we're talking about.
At the end of the day, by providing support for the iPad Pro with the Office, Microsoft has certainly shot itself in the foot where the Surface Pro line of devices is concerned.
Over to you.