In the E3 event which was held at San Francisco, Microsoft demonstrated MinceCraft for HoloLens. Mojang, the company behind the popular game MineCraft was acquired by Microsoft last year. Mojang's brand director, Lydia Winters was invited to the dais to demonstrate a version of MineCraft built particularly for Microsoft's HoloLens.
MineCraft for HoloLens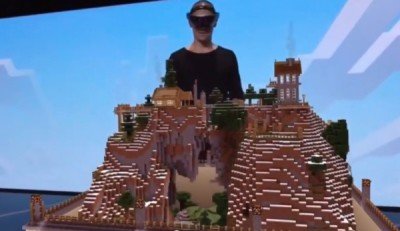 In the demo, the HoloLens projected a screen onto a wall. Winters was not wearing a HoloLens and was able to join the game through Surface tablet. The demonstrator in the stage walked close to a tabletop. By making use of HoloLens, he was able to reconstruct the entire 2D MineCraft world on the table in 3D.
The demonstrator on the stage used natural gestures to zoom into the MineCraft world and also was able to scroll through the visible area within the tabletop space. The feed coming through HoloLens headset enabled the audience to experience how demonstrator was playing the game with the world.
Key highlights of MineCraft for HoloLens Demo
With HoloLens one could play the MineCraft game right on their wall, and also transfer it to Surface.
Gestures and voice can be used to create and manipulate world. Waling around the created world changes the viewpoint.
Zooming in and Zooming out of the game view can be done through voice.
One can raise the world and see things that are normally not visible.
The presenter in demo looks at a TNT pack and tells the game to strike it with lightning.
Interesting? Isn't it?