Starting with Insider Fast Build for Office for Windows desktop version 2006 (Build 12905.20000), Microsoft has made it possible for Excel users to import data from PDF documents. Importing and refreshing data from PDF documents happen to be one of the highly requested data-related features among Microsoft Excel users. As a result, all Excel users can import, refresh, and analyze data from PDF documents.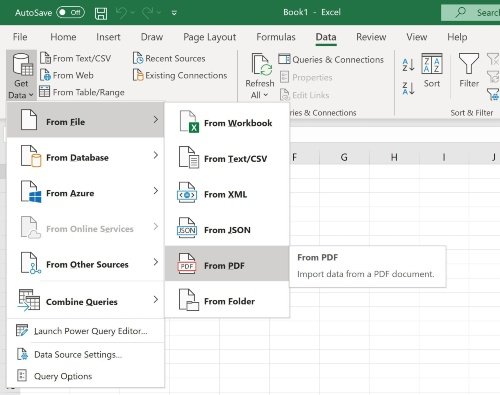 Import data from PDF documents in Excel
To enable this feature, Microsoft Excel users need to navigate to Data tab > Get Data > From Files > From PDF. Additionally, Microsoft has also managed to fix a couple of issues faced by Excel users.
"We fixed an issue that caused printer names to be duplicated in the list of available printers," Microsoft Excel team said in its release changelog. "We fixed an issue that resulted in improved performance time for users when they deleted merged columns."
In related news, Microsoft has expanded use-case scenarios of Surface Earbuds to enable cross-product integration. As a result, Microsoft Office users can wirelessly control PowerPoint presentations using Surface Earbuds.
Following are the set of noteworthy fixes Microsoft brought in its recent Insider Fast Build for Office for Windows update release:
Microsoft issued a fix for keyboard shortcuts and spell check problems when using an English Switzerland (QWERTZ) keyboard.
Fixed: Files with custom xml values opened extremely slowly.
Fixed: App crashes when inserting or updating an Index in a document containing more than a hundred entries.
Fixed: Adding a new comment on a blank document wouldn't do anything.
Fixed: VBA projects that contain references to code libraries with double-byte characters in the library name or library path would be viewed by the Office application as corrupt on load.
Recently, Microsoft introduced a new feature that allows Office users to easily save their Word, Excel, and PowerPoint files. The feature enables more control over the list of available folders as the save file destinations, courtesy of a move that brings the pinned folder support in the Save dialog.