FetchClimate was successful in creating a stir across the globe, right from the time it was launched in early 2012. Now, on the occasion of Earth Day, Microsoft has brought FetchClimate with some more exciting features and amazing ability to display information. For those who are still wondering what FetchClimate is, it is an environmental information tool that provides rapid access to environmental information across the globe. Not only the current data, but you can get weather information all the way back from the 20th century!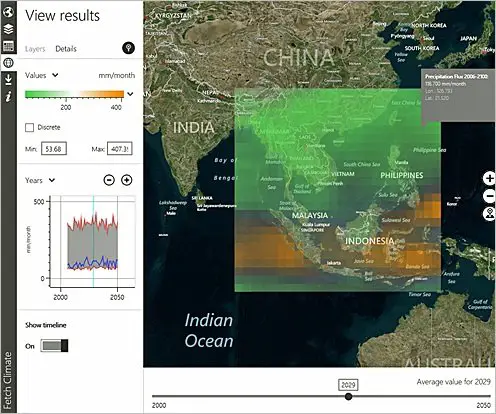 All you have to do is to just state what you want to know and when in time you want to know it for (and the combination of averages over, or steps through, years, days, and hours). Then you click on the map and select the location by drawing a box on it. FetchClimate will then select the best dataset for your query, and return with the best possible information.
Evolution of FetchClimate
Microsoft says that FetchClimate will help Scientists around the world to monitor the environment and understand the ecosystem. The tool was developed after extensive research on thousands of available environmental datasets, on everything from agriculture and biodiversity to climate and the oceans. The Computational Ecology and Environmental Science group in Microsoft Research have spent several years developing FetchClimate, working with Moscow State University, which provided software development, and the DigiLab at the London College of Communication, which designed an interface that makes finding and understanding environmental information stress-free.
FetchClimate – Just view the data on your Bing Map
Microsoft mentions on the MSDN blogs,
"FetchClimate runs in the cloud, on Microsoft Azure, meaning there is no physical limit on how much information can be added. You can not only look at historical climate data but also peer into the future, as we have included forecast data from the latest climate simulation experiments. For example, you can see what the predicted temperature or precipitation in your area will be in 2050".
As Microsoft puts it, FetchClimate is extremely easy to use, just draw a box around the geographic area you're interested in, select the environmental information you want, and view the data on Bing Maps within seconds.
FetchClimate is an exciting environment utility and will attract research teams, national laboratories, and international collaborations who are used to dealing with geographical data and are keen to share it with colleagues and the outside world in a more dynamic way. To sum up it will equip everybody to be more aware of our planet and better equipped to take care of it.