Google Chrome vs Microsoft Edge web browser war continues to heat up. In the past months, Edge and Chrome have added numerous features to the apps. Now, Microsoft Edge is reportedly working on a new feature called 'Search in Sidebar.'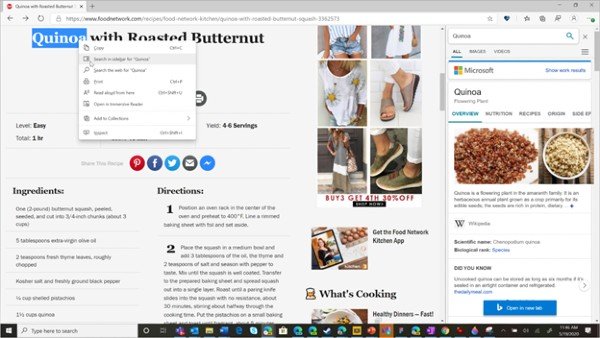 Microsoft Edge – Search in Sidebar
This feature allows Edge users to search for words and sentences using a sidebar interface. It is supposed to be Edge's trump card in its battle with Google Chrome. You have to keep in mind that the search function would operate without any interruption to the current tab. Instead, the new interface does its job in the background.
It is completely intuitive to use the Search in Sidebar feature on Edge, and it is similar to the instant search feature Chrome for Android had introduced some time back. On the desktop of Edge, you can select a piece of text or sentence and choose the 'Search in Sidebar' option.
This will open up a sidebar that shows you the search engine results from Bing. It is unsure whether we would have a chance to change the default search engine to Google or something else. According to some early screenshots, the feature appears to be in the public build of Microsoft Edge.
Microsoft announced this feature way back in May 2020. At that time, Microsoft said that the feature is building upon the Ask Cortana feature that the browser had introduced a while back.
As we mentioned, Search in Sidebar would be in addition to the many features Microsoft Edge had debuted to make the browsing experience better. Microsoft has been keen on adding features like advanced web capture, an integrated tool for price comparison and coupons, and a better copy-paste utility for web pages.
While 'Search in Sidebar' may seem to be a minute feature, it contributes to how professionals use a web browser for content management. There is no surety on when the Search on Sidebar feature would be rolling out to the public. However, when it does, it will be yet another reason to shift to Edge from Chrome, Mozilla Firefox, or even Brave.