Whether you are having some problem on your Microsoft product and are seeking help, or you are an expert that can help people with common queries, there is a good news for you. Microsoft has just announced that it is launching a new Technical Communities Site.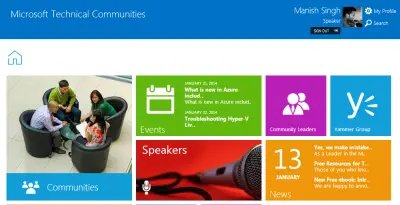 To make things more enticing, Microsoft says that its members will be getting other benefits too. These benefits include free eBooks, advertisement on its Facebook and LinkedIn pages, and an Office 365 subscription.
You can sign up to the service for free using your Microsoft-partnered domain or simply your Outlook/Live ID. Microsoft then asks you if you are a Community leader or Speaker. Either way, once you have filled up the form, you will be able to access your account.
If you are a speaker, you can provide Microsoft your past records, and Microsoft may give you opportunities to speak on a global platform.
The site is jam-packed with several resources including whitepapers on several topics. And if you are an expert, not only can you help other fellow members and help-seekers, you can also get rewarded for doing so!
In an official blogpost, it says,
If you are a subject matter expert looking to find places where you can get speaking opportunities, list yourself as a speaker and other leaders can contact you for possible engagements.  This is a one stop shop for connecting people who are interested in technology and getting rewarded for it!
You can visit the site here.