A new app update to Microsoft OneNote app for iPhone and iPad brings support for OneNote on Apple Watch. OneNote is a popular note taking application by Microsoft generally bundled with the Office suite. In accordance with Microsoft CEO's Mobile First strategy, all the Microsoft productivity apps are spreading to different mobile platforms including Android and iOS, so is the OneNote app for iPhone and iPad. For iPhone and iPad users, Apple's Watch acts as an extension for their Apple experience – noticing this change, Microsoft has made a headstart by bringing OneNote experience to Apple Watch.
Microsoft OneNote on Apple Watch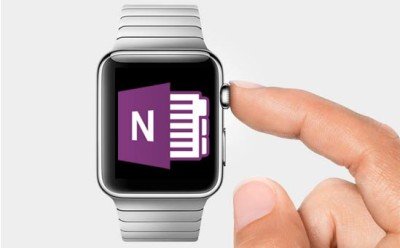 The new version update 2.11.7 to OneNote app for iOS revealed details on compatibility of OneNote applications with Apple Watch. Microsoft updated their OneNote iOS app with following store description –
OneNote for Apple Watch – Excited about the Apple Watch? So are we! OneNote for Apple Watch allows you to pull up your recent notes or dictate new ones on the go, perfect for checking your list at the grocery store or capturing a thought instantly. Welcome to the future.
Version 2.11.7 of the app has added the following 2 features in order to interact with OneNote via Apple Watch:
 To access recent notes
 To dictate new notes
Just not OneNote, Microsoft also added support for PowerPoint on Apple Watch where one could control Powerpoint on an iPhone via Apple Watch and also support for OneDrive on Apple Watch that enable users to look photos present in their cloud storage.
If you have an Apple Watch and are looking to use OneNote app on your Apple Watch to access or dictate notes you can download OneNote app from the Apple store.