Cortana's existence in Windows 10 has always been overlooked. Well, not anymore. Microsoft is set to bring new chat-based Cortana experience in its updated Windows 10 operating system that aims to boost user productivity. Henceforth, Cortana virtual assistant can answer simple, natural language questions with utmost accuracy, hopefully. For example, you can ask questions about your schedule, among other things.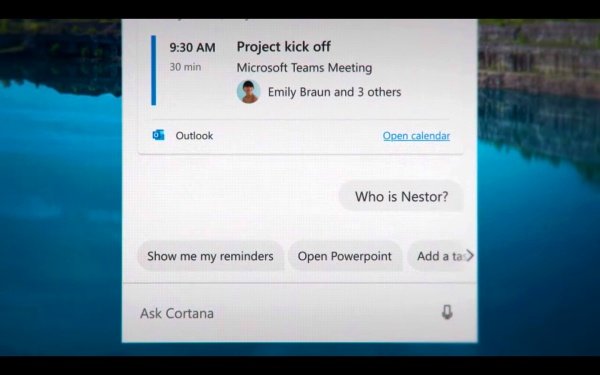 Microsoft releases new chat-based Cortana experience
"This productivity focused experience is now generally available in English for customers in the United States with the Windows 10 May 2020 update," said Andrew Shuman, Corporate Vice President of Cortana.
Not just that, Cortana is also up for cross-product integration. As a result, Cortana can help users connect with other people, set important reminders, and add tasks in Microsoft To Do.
The Windows 10 v2004 update, in a way, gives a much-needed push to Cortana's productivity booster. Using Cortana, Windows 10 users can find local information and obtain definitions. They can also keep track of the latest news, weather, and finance updates using the Bing search engine.
Additionally, Windows 10 users can voice-input the following set of commands by clicking on the microphone button. Windows 10 users can also type and input these commands in Cortana's chat-based interface.
"Am I free at 9?"
"Find time with Nestor to talk about the budget"
"Join my meeting"
"Remind me to review expenses every Friday at 3 PM."
As outlined by Microsoft, we have compiled the list of updated Cortana features for Windows 10, as follows:
Cortana virtual assistant can help users manage their calendar
Cortana can help users join meetings in Microsoft Teams
Cortana can also help users find out about people in their organization.
Windows 10 users can make lists and set reminders and alarms using Cortana.
Cortana can help users open apps installed on their Windows 10 computers.
Cortana offers breaking news and weather updates
Cortana will receive regular updates to Cortana through the Microsoft Store. The software maker is also working to support wake word invocation. Meaning, users can say "Cortana" to wake it up. Microsoft is also integrating Cortana into Microsoft 365, enabling additional productivity features and capabilities.