Countless or never ending requests for a Mac client of OneNote has forced Microsoft to deliver the note-taking app – OneNote for Mac machines. Yes, the app used for capturing, storing, and organizing all kinds of information is now available to mac users. It can be downloaded for free from Mac App Store. Microsoft OneNote was originally released more than 10 years ago and until now remained limited to Microsoft's Windows platforms.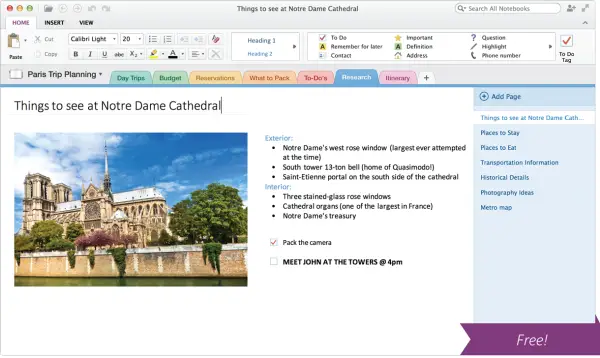 Mac users have made it loud and clear that you want the first class note-taking experience of OneNote on your Macs. Actually… really, really clear. We got LOTS of direct mails, forum posts, and tweets", said Microsoft in a blog post.
Microsoft OneNote for Mac
First things first, similar to windows' version, OneNote for Mac houses the collapsible ribbon interface and the same note-taking functionality. Besides, it is ad free.
It includes 7GB of free storage space on Microsoft's servers and hosts some unique features like,
OneNote Clipper
Allows OneNote users to save Web pages to OneNote.
Office Lens
Marks Microsoft's optical-character-recognition technology for capturing documents and whiteboards or business card and enhance it for viewing with Windows Phone and saving them to OneNote.
All efforts can be viewed as Microsoft's attempt to widen the OneNote user base inface of competition from rivals, especially Evernote. In addition to shedding the price tag, Microsoft has launched an API that allows developers to integrate their own creations with the service.
On the downside, the free version of OneNote App for the Windows desktop doesn't feature all the tools found in the paid version. For instance, it lacks Outlook integration and support for Sharepoint.
Microsoft has also sought support of printer makers Brother and Epson to include support for OneNote on some devices.
You can also download the free version of OneNote 2013 for Windows 8.