Microsoft 365 is rolling out a new web interface, as expected. As a result, the Office.com homepage is finally receiving a major design overhaul. The complete is rollout is likely to take place throughout July. If you can recall, TheWindowsClub had previously revealed Microsoft's plan for the new Office.com layout.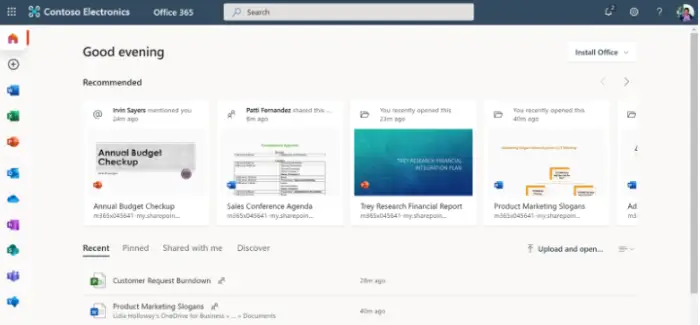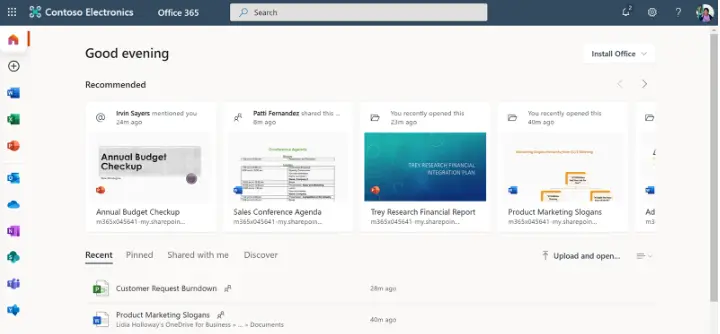 Microsoft rolling out redesigned Office.com homepage
The official roadmap entry points out that Microsoft is rolling out two new changes for Office.com and Office 365 App Launcher. First things first, both Office.com homepage and the Office 365 app launcher will display a similar set of applications and services to users.
Although recently used apps are now pinned for users on both Office.com and Office 365 App launcher, users can unpin apps that have been pinned automatically from recent usage or manually by an admin or user.
"Admins will have the ability to pin applications to Office.com and the Office 365 app launcher through the Azure Active Directory admin portal. Global admin, Application admin and Cloud application admin roles can be used to pin apps for users," said Microsoft.
Microsoft is also updating the layout and navigation of Office.com and the Office App in Windows 10 to improve the usability based upon customer feedback. Users will find their documents front-and-center. Users will be able to access their applications within a more organized page structure.
By rolling out these design changes, Microsoft probably wants to improve page loading performance for Office.com and portal.office.com. Microsoft will achieve this by removing redirection from portal.office.com. Meaning, users will land directly on the new and improved office.com homepage.
Office has a new home pic.twitter.com/fypLYhanCB

— Aggiornamenti Lumia (@ALumia_Italia) July 6, 2020
Semantic search in Microsoft 365 coming soon
Meanwhile, Microsoft has plans to implement Semantic search in Microsoft 365. The company will add natural language search capabilities, courtesy of Bing, SharePoint, and Office.com. This way, Microsoft 365 users will benefit from improved search accuracy.
Natural language capabilities will help semantic search understand a user's intent and contextualize the meaning of their search terms typed, further leading to more relevant search results.
Acronyms answers with Microsoft Search in Office.com
Microsoft is helping Office.com users understand unfamiliar acronyms and abbreviations used by their organization or team, courtesy of Acronyms answers.