Remembering complex passwords could be a tedious process for many, let alone using those passwords every time you want to access your email and social media accounts. Sure, there are password managers — but again, you must remember one master password that allows users to safeguard and retrieve all remaining credentials stored in your password manager.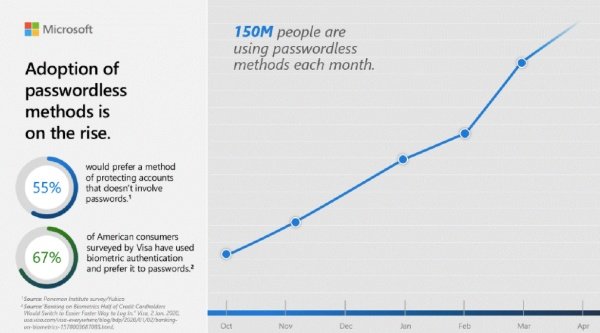 150 million people use passwordless methods each month
Over the last few years, various passwordless authentication methods have started gaining momentum. For example, authentication methods like two-factor authentication (2FA) and One-time-password (OTP) authentication see massive adoption. In 2FA, in particular, an additional authentication layer is offered besides regular passwords. Then, there are authenticator apps such as Microsoft Authenticator, Google Authenticator, etc.
Microsoft believes passwords are inconvenient and a drain on productivity. In its recent blog post, the company wrote:
"No matter how strong or complex a password is, it's useless if a bad actor can socially engineer it away from us or find it on the dark web."
Microsoft also says passwords don't make things more secure since they only increase the costs of service desks:
"Plus, passwords are inconvenient and a drain on productivity. People spend hours each year signing into applications and recovering or resetting forgotten usernames and passwords."
According to the software giant, the consumption of passwordless authentication methods has seen a dramatic increase over the last few months. Now, more than 150 million people use passwordless methods each month.
While 55 percent of users would prefer a method protecting accounts that doesn't involve passwords, 67 percent of American consumers surveyed by Visa have used biometric authentication and prefer it to passwords.
One in every 250 corporate accounts gets compromised each month
Microsoft says on average, one in every 250 corporate accounts is compromised each month, and relying on passwords alone may not a good enterprise defense strategy according to the software giant,
Businesses dedicate 30 to 60 percent of their support desk calls to password resets and most companies haven't enabled multi-factor authentication for their customers or employees.
Multi-factor authentication (MFA) provides an additional layer of security to, let's say, two-factor authentication or 2FA. Previously, Microsoft revealed 99 percent of accounts compromised in January this year did not use Multi-factor authentication.