On Wednesday at Microsoft BUILD 2015, Microsoft shared a video providing a closer look to HoloLens; a Windows 10 powered holographic headset revealed by the company in January 2015. The video shows how HoloLens can help users to manipulate the common Windows programs in their day-to-day lives and interact with holograms in their physical environment.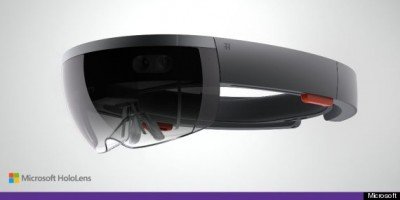 Microsoft presented a surprise delight to the audience at Microsoft BUILD 2015 held in San Francisco's Moscone West convention center yesterday. A small and cute metallic robot drove on the stage to demonstrate the features and uses of HoloLens in engineering, architecture, construction firms, and medical education and much more. The cute little virtual robot floated over the stage using the 3D mapping capabilities of the device and also showcased the how HoloLens can transform healthcare and play important roles in schools, offices and various other zones of our practical lives.
Talking about the Hololens Doug Brent, Trimble's vice president of technology innovation said, "I've seen a lot of these new things come and go," but HoloLens is different. "I expect within five years we'll all be interacting with the world with this kind of technology." Demonstrating the medical benefits of Hololens, Mark Griswold from BUILD stage said, "The mixed reality of the HoloLens has the potential to revolutionize [medical] education by bringing 3D content into the real world, using holograms we can easily separate and focus in on individual systems."
Microsoft brought hundreds of HoloLens devices for the developers to test and get the first-hand experience. The Company also announced that they will soon be offering the Holographic crash courses for developers who want to create the applications for the interactive platform.
Watch this video to know more about HoloLens.