The eighth annual BrandZ list of the world's most valued brands sees Apple topping the list of world's most valuable global brands. The list puts Microsoft – the software giant in seventh place, down two places from last year.
Most Valuable Global Brands
The annual BrandZ Top 100 Most Valuable Global Brands study also estimates the decline in the monetary value of Microsoft brand – $69.8 billion in 2013, down nine percent from 2012. It provides estimation taking into account views of potential and current buyers of a brand, alongside financial data. The study is commissioned by WPP and conducted by Millward Brown Optimor.
As per the report, Apple brand is worth $185 billion. Although there has been marginal rise in popularity (just +1% ) the company has managed to hold its position. Samsung on the other hand, seen as Apple's closest competitor showed a surprising +51% growth. It is now no.30 in the global ranking with a brand value of $21 billion.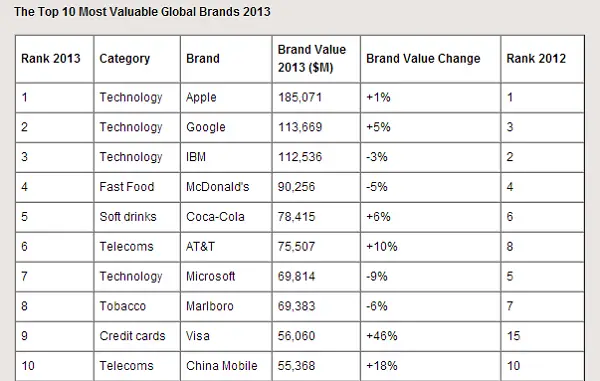 Google, the Internet giant is seen as Apple's serious contender for the no.1 spot. Its attempts to reverse last year's decline has proved successful  Google has grown +5% in brand value this year and occupies no.2 spot in the ranking with a value of $114 billion. IBM is no.3 in the ranking with a brand value of $112 billion.
The report also highlights its year's key findings. You can read about it, here.