Microsoft Lists in Microsoft Teams is now generally available! Microsoft Teams has extended the general availability of the Lists app to its commercial and GCC customers. Earlier this year, Microsoft announced the Lists app. What is Microsoft Lists, you may wonder? Well, Lists is a Microsoft 365 app that helps users stay organized.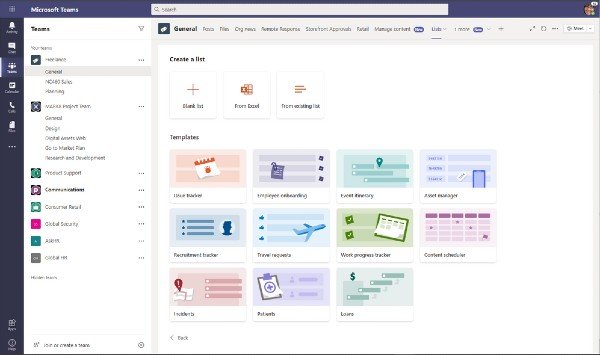 Microsoft Lists in Teams is now available
There are several things you can do with Lists in Microsoft Teams. For instance, hospital staff can track patients. Similarly, bank employees can track loans. In a nutshell, collective tracking becomes way easier. Furthermore, Lists offers customizable views and alerts so that all your team members can be updated.
In its recent blog post, Microsoft wrote:
"With ready-made templates, you can quickly create lists from directly within Teams and access them on the Teams mobile app by accessing the Lists tab you added as a channel."
The Lists app in Microsoft Teams adds collaboration and communication capabilities to lists and list items. The Lists app in Microsoft Teams has several features to offer, as follows:
Create new lists from templates, from Excel table data, and from an existing list.
Allows users to import existing team lists as new tabs.
Supports all standard list features that you can access in the SharePoint web
The ability to have a channel conversation about a list item.
Actions on the list are audited and logged in the Security as well as compliance center audit logging.
How to use Microsoft Lists in Microsoft Teams
Getting started with the Lists app is fairly easy:
Navigate to a channel where you want to start tracking a list.
Now, hit the "+" button to explore the tab gallery.
Select the Lists app.
Either create a new list or import an existing list.
Well, the Lists app in Teams offers three industry-specific templates, to begin with: Patients, Loans, and Incidents. This week, Microsoft Teams announced several new features such as Spotlight and Call Merge. Last week, Microsoft announced the addition of Project Moca within Outlook on the web.
PS: Have you seen our TWC Video Hub by the way? It offers a lot of interesting & useful videos about Microsoft and Windows.