Microsoft is rolling out new healthcare features to Microsoft 365 amid the coronavirus COVID-19 outbreak. According to the company, the upcoming features are likely to help healthcare professionals collaborate and communicate effectively using Microsoft 365 services.
During the ongoing coronavirus COVID-19 outbreak, in-person doctor visits can be a challenge, especially for people living in remote areas with a shortage of healthcare facilities. Sure, video conferencing is an effective alternative to in-person consultations.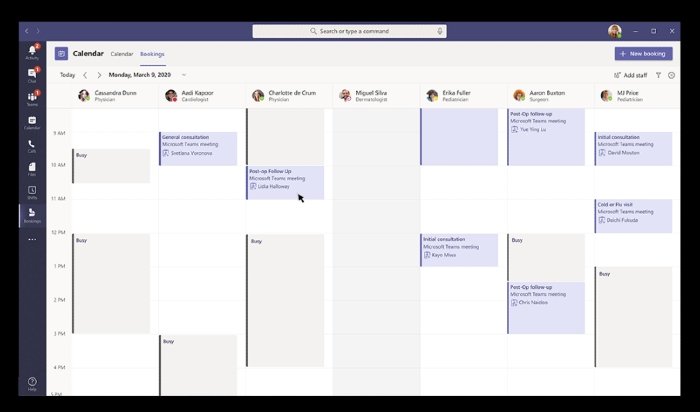 Microsoft 365 gets new Healthcare features
Microsoft intends to simplify the process of scheduling and managing appointments for healthcare professionals, courtesy of a new Microsoft 365 feature. Microsoft's new addition to Teams comes in the form of a new meeting platform feature called Bookings. It's an upcoming feature that'll allow healthcare providers to schedule and manage virtual visits with patients.
Once a visit is scheduled within Microsoft Teams, the patient will receive appointment details over email. Along with the email, the Patient will also receive a link to join the virtual appointment using Teams web interface or mobile app.
Microsoft says will make the Bookings app available in Teams in the coming weeks. Meanwhile, Microsoft has this to say in its blog post:
"Working in a complex care environment—made even more complex by events such as the spread of COVID-19—doctors, nurses, and other healthcare staff need access to tools that enable collaborative workflows to deliver high quality patient care."

"Both patients and clinicians need greater flexibility and convenience when it comes to being able to connect with each other across locations."
Integration of Microsoft Graph API
Microsoft also allows healthcare organizations to integrate the scheduling and joining option for Microsoft Teams meetings into their own healthcare systems, courtesy of Microsoft Graph API.
Microsoft Teams is also rolling out changes to targeted communications, which allows users to manually create tags to organize users based on various attributes such as a role, skill, or location. For example, you can create a common tag @medical and assign it to multiple employees. This way, you can message multiple users at the same time using a common tag.
The upcoming update will allow targeting messages to recipients based on their work shifts.
In related news, Microsoft has asked nearly all its employees to work from home during coronavirus COVID-19 outbreak. Microsoft is making Teams available free for 6 months.