In a surprising move, Microsoft is pushing an update for all existing and new Office 365 ProPlus, which will change their default search engine to Bing. The extension. While Microsoft is offering ways to skip the installation through Microsoft Endpoint Configuration Manager or Microsoft Intune, it is still aggressive.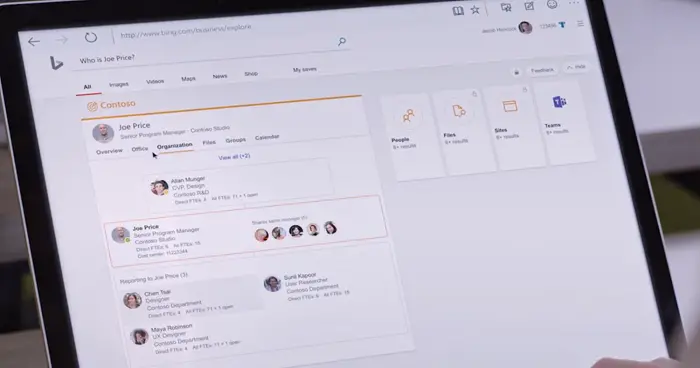 Microsoft to push Bing search to Office 365 ProPlus
Let get one thing clear, Microsoft isn't trying to turn on Bing so it can override Google as the default search engine for Office products.  Instead, what Microsoft is trying to push is Microsoft Search in Bing. Office 365 ProPlus are Enterprise subscribers, and Microsoft Search is an enterprise search solution. Customers using Office can leverage this for contextual work-related information using data sources in Office 365. It can search for documents, desk location, Office employees across services such as  SharePoint, Microsoft OneDrive for Business, and Exchange.
That said, there are reports which haven't talked about the full story. Microsoft is not offering Microsft Search without the choice of skipping it. Microsoft has given details on you can block Microsoft Bing Search installation in Office 365 ProPlus. If you use Microsoft Endpoint Configuration Manager or Microsoft Intune, you can exclude the extension from being installed by using the Office Deployment Tool or by using Group Policy. You can also download the XML or Policy from here.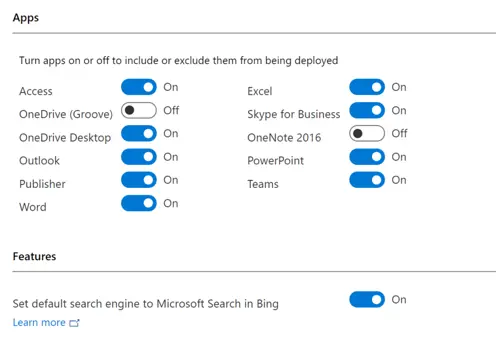 If you are an Enterprise that prefers Google as their default search but also uses Microsoft Search, then you can turn it off after installation as well. However, it means a lot of emails for IT admins to explain the change, and then extra measures to turn it off.
Countries and Time Frame for Microsoft Search in Bing
Australia
Canada
France
Germany
India
United Kingdom
United States
The extension will be rolled out as part of the Monthly Channel in late February 2020. Release for the Semi-Annual Channel (Targeted), and Semi-Annual Channel is coming soon.
The reason why Microsoft is in line of fire is that the option to set Bing as the default search engine is turned on as default. While I don't expect IT Pro admins, to blindly click on the Next button, but it is about options. We have explained in detail how you can block Microsoft Bing Search installation in Office 365 or uninstall it later, but it would have been nice if it was off by default. If an enterprise needs to use Microsoft Search in Bing for Chrome, they will eventually do it.
The update will install a Chrome extension through software— DefaultPackPC– that can be easily removed. You can also set Bing as the default search before installing the update, and it will not install the extension.
Nevertheless, Microsoft is going to face the heat, and Google is not going to like this move from Microsoft.
UPDATE, 12th Feb 2020: Based on feedback, Microsoft has announced the following changes:
The Microsoft Search in Bing browser extension will not be automatically deployed with Office 365 ProPlus.  Through a new toggle in Microsoft 365 admin center, administrators will be able to opt in to deploy the browser extension to their organization through Office 365 ProPlus.  In the near term, Office 365 ProPlus will only deploy the browser extension to AD-joined devices, even within organizations that have opted in. In the future we will add specific settings to govern the deployment of the extension to unmanaged devices. We will continue to provide end users who receive the extension with control over their search engine preference.
Thus, Microsoft Search in Bing extension will not ship with v2002 of Office 365 ProPlus.