Are you a web developer? Is your website fast enough? If so, Microsoft is challenging you to take its 11% for IE11 test – and be assured, your efforts will be rewarded. The software giant is hosting a giveaway for developers to get them improve their website's performance.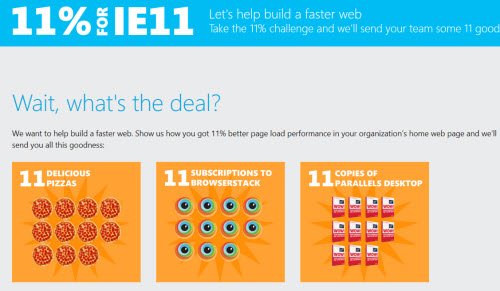 Microsoft bundled the new version of their web browser, Internet Explorer 11 with the recently released OS Windows 8.1. The browser is 9% faster than its previous version, and about 30% faster than other browsers it is competing with. Now that the browser is fool-proof, Microsoft wants to improve the quality of your website as well. Because, a browser alone can't guarantee pleasing performance, the quality and complexity of your codes have equal importance.
11% FOR IE11
The challenge is if you can improve the page load performance of your site by at least 11%, Microsoft will reward you with some thoughtful gifts, which for obvious reasons come in a multiple of 11. The 11 goodness are:
11 copies of Parallels Desktop Virtualization.
11 one-year subscriptions to its cross browser testing tool BrowserStack.
And if nothing, who doesn't like pizzas? That too, free!?
To put some light on the freebies, Parallels is a Mac software. Microsoft knows that many coders use Mac for working, so it didn't hesitate to put that in the giveaway list. BrowserStack has gained quite a reputation with firms like Wikipedia, ICANN, jQuery, GitHub and even the game maker Rovio. And we all love pizzas, don't we?
More information about how you can participate is available on their website.