New Yammer is rolling out support for reactions on every conversation or reply. Microsoft wants to provide enterprise users with more than a 'like' when reacting to Yammer posts and comments. Owned by Microsoft, Yammer is the enterprise social network, which enables communication among employees within organizations.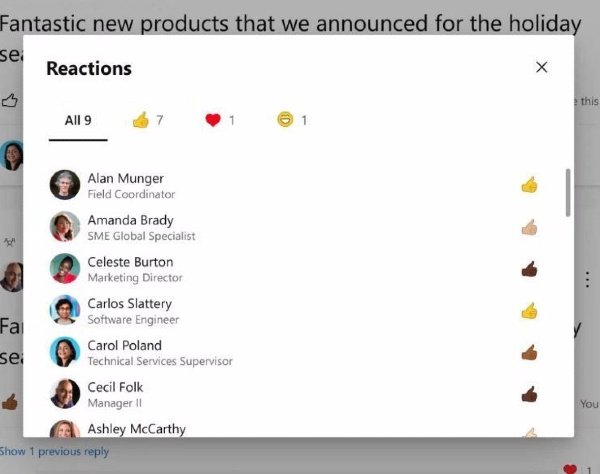 Microsoft announces Yammer Reactions
Yammer allows users to share knowledge and build communities. However, a social networking experience would be incomplete without letting users express how they feel about a certain post or comment on Yammer.
"You can now express yourself through gratitude and celebration, laughter, and sadness-just like in real life. This gives you more ways to respond or express your feelings in the conversations you care most about, while gaining insight about how others feel about your content and conversations," Yammer said in its blog post.
Microsoft says it wanted to take a "more thoughtful approach" in making Yammer reactions "expressive, meaningful, constructive, and globally understood." Facebook already supports reactions. Hence, users are already familiar with the concept of expression beyond a 'Like' on social networking platforms.
In addition to user feedback, Microsoft also looked into their GIF usage to understand how they express themselves. After much deliberations, Microsoft finalized upon following reactions on Yammer posts and comments:
Like
Love
Laugh
Celebrate
Thank
Sad
How to react to posts or comments using Yammer reactions
Do you want to express yourself other than a 'Like?' If you are using Yammer on the web, make sure you hover on the like button. On mobile, you need to hold down the like button. Now, reaction options of like, love, laugh, celebrate, thank and sad will show up. You can either tap or click on one of the reactions depending on your device.
What exactly is Microsoft trying to achieve?
By announcing reactions, Microsoft wants users to feel more connected to their Yammer communities which will also increase user engagement with the platform.
"We will continue to listen and learn from your feedback so you can be your most expressive self on Yammer," Microsoft said.
Availability of Yammer Reactions
Microsoft has already started rolling out Yammer reactions to global users and they will be accessible to everyone in the coming weeks.