Microsoft Garage is a place where ideas come to reality. And these are not just ideas, but it's a stuff that no would ever think about. The Microsoft Garage Projects are a way to exhibit the talent for the think tanks from Microsoft; a lab where Microsoft people work after finishing their job. One of such Garage projects recently saw what brainstorming can conceive. A team from Garage project started with a thought that can technology measure facial hair; specifically moustache. It was a test for machine learning as well. And soon, MyMoustache.net took birth.
What is MyMoustache.net project from Microsoft Garage
MyMoustache.net is a Microsoft Garage project that is built using Microsoft Project Oxford Face APIs. The APIs are Microsoft's state-of-the-art cloud-based face algorithms to detect and recognize human faces in images. The API is able to detect  a face in an image, verify same face in two different images, find similar faces, group similar faces and even identify the face with its name. This same technology is being used in MyMoustache.net in order to recognize a face. The website can put a moustache on your face.
All you have to is upload any of your photos and MyMoustache.net starts analyzing it for recognizing the face it it. Once identified, MyMoustache.net applies a moustache on your face. MyMoustache.net helped me visualize how I would look with a long moustache.
Not only this, going forward, MyMoustache.net also measures the length of facial hair in the image and displays the score.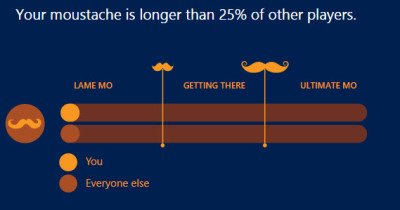 For making MyMoustache.net possible, the Microsoft Garage team has used Cortana Analytics Gallery and Azure Machine Learning Studio along with Microsoft Project Oxford. The team also mentions that their inspiration behind MyMoustache.net project were two earlier projects, namely, HowOld.net and TwinsOrNot.net.
Raising money for the Movember Foundation
MyMoustache.net is not only for entertainment; but it is built for a noble cause as well. The team is working with the Movember organization to raise money and awareness for men's health while showcasing the possibilities of machine learning technology.
To see how your face will look with a moustache, click here.