Several new Microsoft 365 features and capabilities from past announcements are finally reaching public preview and general availability, according to the company. Microsoft is readying one of the highly-requested features in Teams for Education: Large Gallery view to allow attendees to see up to 49 participants at once on a single screen, courtesy of 7×7 grid view.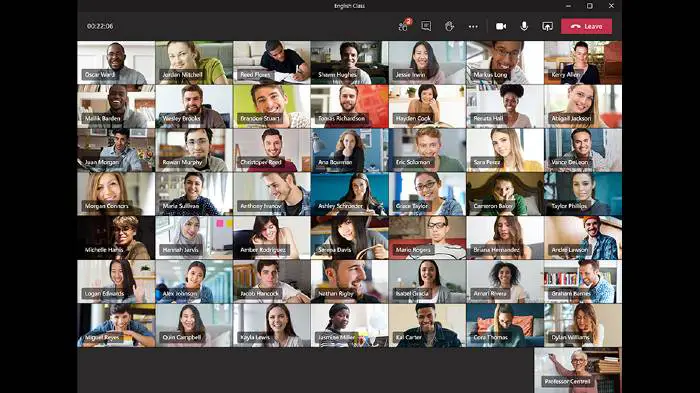 Microsoft Teams 7×7 grid view coming soon
Microsoft is rolling out its expanded grid view to production with the new multi-window experience starting this month. Meanwhile, the company is expected to target full availability by the end of August.
"We can't wait to get these, as well as some new updates, into your hands as we swiftly release new tools to further enable remote and hybrid work," said Jared Spataro, Corporate Vice President for Microsoft 365.
Updates to Microsoft Teams
Microsoft is making it easier to create recurrent surveys in Teams, courtesy of new workflows for common scenarios. They include templates, allowing users to choose the frequency and set reminders for each Teams channel. Simply click Create a workflow to collect responses in the Forms tab and select Scenarios. Recently, Microsoft released new custom background effects in Teams.
In March, Microsoft Teams announced some new features to help users connect, stay organized, and collaborate with family and friends. These features are now rolling out to Microsoft Teams mobile users in preview.
Microsoft Graph Connectors are now available to help your organization index third-party data hosted on-premises or in public and private clouds and make content more accessible. If you are an admin signing in from your tenant, select the Connectors tab on your Microsoft 365 admin center > Settings > Microsoft Search page.
Natural language processing
Microsoft 365 is trying to make natural language processing a core part of its services:
"We've been hard at work innovating in natural language across Microsoft 365 apps and services. We're excited to share several new experiences that demonstrate our progress."
Microsoft Word users can ask questions related to a particular document and get answers based on the contents of the document. Similarly, Outlook suggests short responses based on the context of the message. Excel users can ask natural language questions. SharePoint provides users with an "At a glance" summary based on the contents of the document. All these features are now generally available.
This month, Microsoft released PowerPoint Presenter Coach for Android Mobile. Meanwhile, PowerPoint Live for PowerPoint for the web is now generally available. Microsoft also released some new Yammer updates. Now that the new Yammer based on Microsoft's Fluid UI is out in public preview, Microsoft recently added new "All Company" customizations.
Last but not least, Microsoft rolled out some additional changes to Outlook and Excel. Outlook finally allows users to create polls, collect votes, and view results within an email. Meanwhile, Excel users can create Visio diagrams.
Security updates to Microsoft 365
"This month, we've added new capabilities to help IT admins more effectively secure their organizations against malicious documents and manage privacy settings in Edge and the Microsoft Graph."
Recently, Microsoft announced the general availability of Safe Documents, a new security feature for Word, Excel, and PowerPoint. It promises to safeguard enterprise users against untrusted files or documents. What's more, enterprise users can manage the types of data that sync for them, among others.