After a series of announcements, alternatives, controversies, the official Instagram app for Windows Phone is now available on Windows App Store. Instagram is a popular social network for sharing photos and videos with over 150 million user base. As a part of many apps that will be arriving on Windows Phone shortly, Instagram was one of the most anticipated app by Windows Phone users.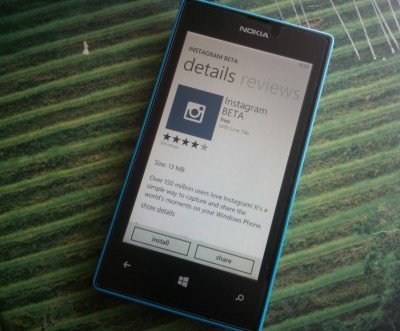 Official Instagram app for Windows Phone
The absence of an official app was often quoted as a detriment and deal breaker for people who wanted to buy a Windows Phone. Though many alternatives to Instagram app allowed us to access its service, Instagram always kept modifying its API to revoke access of such apps.
The official app boasts most of the features which its cross-platform counterpart offer. The famous photo filtering option is also there. In an official announcement, Team Instagram wrote,
We wanted to make Instagram available to people with Windows Phones as quickly as possible, so we focused on creating an awesome experience with Instagram's core features. We're not finished, and our team will continue developing the Windows Phone app to keep releasing features and bringing you the best Instagram possible.
The beta version of the app is available on Windows Phone 8, but lacks many critical features. Some of which includes support for video upload, photo tagging and geotaxis.
If the lack of video upload option is annoying you, you might as well try Vine, which also arrived on Windows Phone.
Th official Instagram app for Windows Phone can be downloaded here.