Opera, the software company today acquired SurfEasy, the Toronto-based company, known for its easy-to-use VPN security services. The upcoming versions of Opera web browser will come with the VPN features and an added layer of encryption helping users to protect their personal data and privacy. Furthermore, this acquisition will also help the Opera users to access the websites restricted or blocked in their region.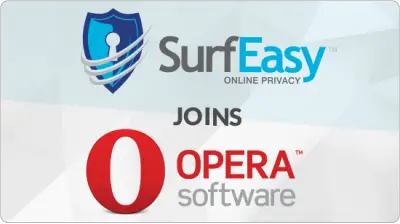 Talking about the benefit of acquisition made by the company, Lars Boilesen, CEO of Opera Software says,
"More and more internet users are starting to question whether they can trust the internet these days, and we are actively looking for secure solutions for their phone or computer."
With the increasing prevalence of spyware and phishing attempts around, this looks like a smart move taken by Opera. Online security and privacy nowadays the major public consciousness and teaming up with SurfEasy will definitely help Opera gain an increased user's trust.
SurfEasy has already been serving the common platforms like Windows, Android, Mac OS X and iOS. It has servers in countries like Brazil, Singapore, Canada, UK and the U.S and now when the company is acquired by Opera, this list might soon cover many more countries.
There is no official word yet revealed about the price of the acquisition by either of the companies.