OpenAI released an AI-powered chatbot, named ChatGPT in November 2022. Since its public release, it gained huge popularity in the shortest time. ChatGPT has the ability to provide human-like answers to the questions you ask. After ChatGPT, tech-giant Microsoft launched AI-powered Bing search engine. Now, Opera is planning to adopt the AI-based chatbot platform for its web browsers. Recently, Opera announced the integration of AI-generated content (AIGC) services into its web browsers.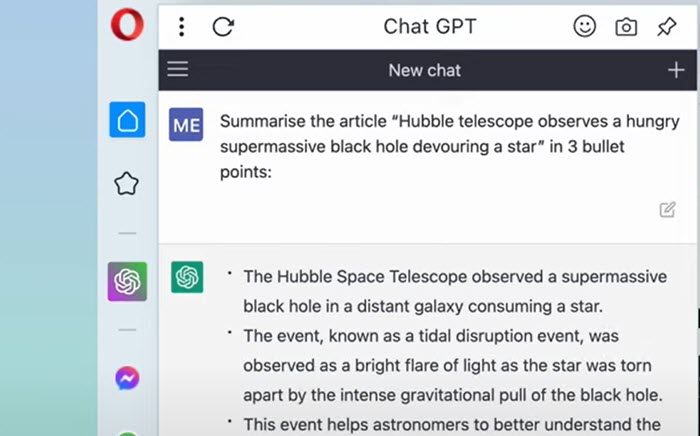 Opera to integrate AI-generated content services
Soon Opera browser users will see a ChatGPT-powered tool on its sidebar. The AI-powered chatbot tool will be available on both mobile and desktop versions of the Opera browser. Currently, this feature is under testing and Opera will release it for users soon.
Shorten is the first feature tested by Opera. As the name implies, it is a button available on the address bar of the browser. Clicking on this button will open the ChatGPT tool which shows the summary of the currently opened article or web page. The integration of ChatGPT into the Opera browser will make users' experience better.
Song Lin, Co-CEO of Opera, stated:
In more than 25 years of our company's history, we have always been at the forefront of browser innovation. Whether inventing browser tabs or providing our users with built-in access to generative AI tools, we always push the limits of what's possible on the web. Following the mass interest in generative AI tools, we believe it's now time for browsers to step up and become the gateway to an AI-powered web.
The announcement regarding the integration of ChatGPT into the Opera browser has been made by Opera in a recent blog post available on its official website. The company has also uploaded a video in the blog post showing how the Shorten feature works with ChatGPT.