Microsoft has rolled out three new features to Outlook for Mac, as outlined in its product roadmap earlier this month. These newly-added features allow Outlook for Mac users to combine multiple inboxes into one unified inbox, search all mailboxes at once, and receive information about your recipients.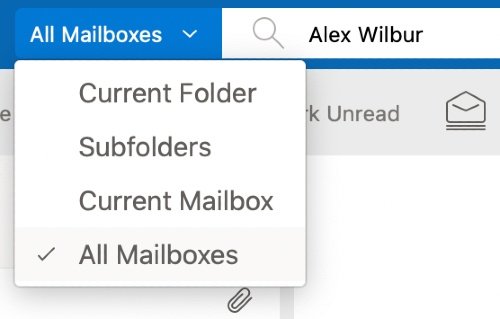 Outlook for Mac users receive Unified Inbox support
Outlook for Mac users no longer need to switch between different inboxes to keep track of received emails in the new Outlook, to begin with. As a result, users can see your emails in one place by combining multiple mailboxes into one unified inbox.
This way, Outlook wants to make it easier for Mac users to view all the important conversations in one place. Similarly, Outlook for Mac users can search through all mailboxes at once, eliminating the need for switching between different folders and inboxes:
Additionally, Outlook for Mac users simply needs to select All Mailboxes when searching for emails. The option is located beside the search bar. It opens search to all connected mail accounts and folders.
Outlook for Mac has also announced the availability of MailTips, a feature that provides users with more information about their recipients. It's a feature that allows senders to receive a heads up if they are messaging people with automatic replies turned on.
"MailTips give you heads up about the messages you're about to send and useful information about the recipients."
When composing a new email, Outlook will offer yellow banners at the top of the message with information that you may find helpful and modify the message accordingly if needed. These new features are available to Outlook for Mac users running Insider Fast builds version 16.38 (20042808) and later.
Outlook for Mac is adding support for add-ins in the days to come. Add-ins happen to be one of the highly-requested features by Mac users. Outlook for Mac is implementing support for add-ins in future updates.
In addition to add-ins support, Microsoft is implementing a feature that allows users to Classify messages based on their confidentiality and sensitivity, courtesy of new, upcoming CLP / Sensitivity labels.