Outlook for Android and iOS now supports voice commands. At Ignite, Microsoft announced the ability for users to use their voice in Outlook mobile apps. This way, Microsoft is providing Outlook for Android and iOS users with a way to schedule a meeting, call their contacts via Teams or compose emails using voice.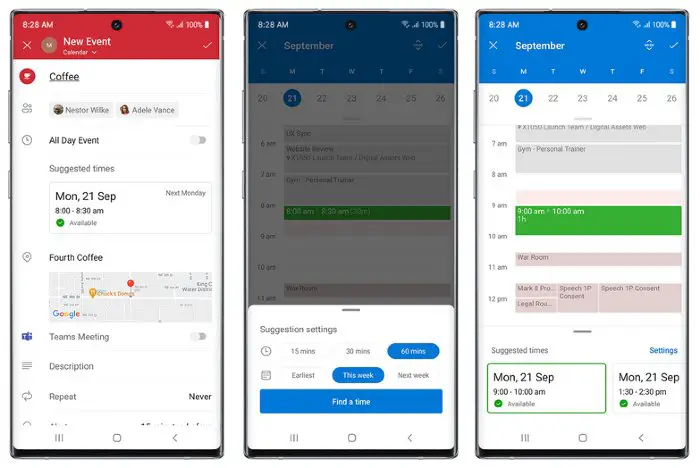 Outlook mobile receives new voice capabilities
Outlook already supports voice search to let users search for people, emails, files, and events, courtesy of Cortana. In July, Microsoft announced new Cortana-based features to let users play their emails in Outlook for Android. What's more, Outlook mobile also supports using natural, everyday language to help filter and narrow your query by using voice.
Microsoft now wants to take voice-based activities to a whole new level in Outlook mobile apps. The Redmond-based company wants Outlook mobile users to do more than searching for events, emails, and files using voice. In its recent blog post, Microsoft wrote:
"Now beyond using your voice to search for people, emails, events and files or staying on top of what's new in your inbox with help from Cortana as your productivity assistant with Play My Emails in Outlook, your voice is becoming the quintessential shortcut in Outlook!"
Voice commands are nothing but a shortcut, granting Outlook users faster access to some of the common functions of Microsoft's email service. The service also uses artificial intelligence (AI) to help users stay on top of their emails and tasks in Outlook for Android and iOS.
Let's see how to compose a new email in Outlook using voice commands: Voice commands will ensure that you don't have to search for a specific email you want to reply to. For example, all you need to do is tap the mic icon and say "Email Anand that I'm not going to be available for a meeting this Friday afternoon."
Outlook will automatically compose a new email, add Anand's email address and Subject of a Quick note and the body includes your message " I'm not going to be available for a meeting this Friday afternoon." In this case, Outlook mobile apps will automatically gather details from your message and mention the subject as "Meeting."
Additionally, Outlook users can schedule a new event and connect with a friend or colleague over Teams calls using voice commands starting next month.