Yahoo Pipes, the web application from Yahoo and discontinued in 2015, now has a replacement. Pipes has been launched with new features. Yahoo Pipes was a web application used by the developers and programmers to manipulate, aggregate and mashup content from all over the web, create the web apps and publish them. Now with the new refined version of Pipes, users don't need programming experience to get good results.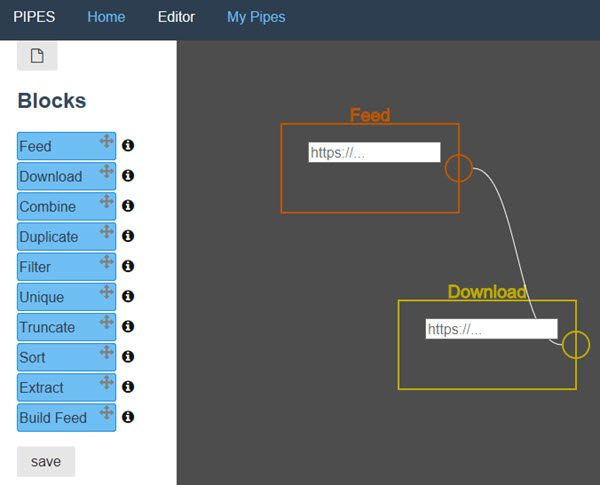 Pipes is the new Yahoo Pipes alternative
Pipes offers a visual programming interface. Users can enter data by pointing a block to an URL and an RSS (or Atom) feed. This feed then moves through the user's pipe, block by block, and each block can manipulate it. A simple example is combining multiple RSS feeds into one and filtering that combined data stream for a keyword.
Pipes lets users to pipe information from different sources. Users can then set up rules to modify the content. Users can filter the data. Yahoo Pipe also has a discussion page and documentation page. With the help of discussion page users can discuss the pipes with other users. On the other hand, the documentation page consists of information about pipes, a user guide on pipe edition and a troubleshooting guide.
Pipes lets you create new pages by collecting RSS feeds from various sources on the Internet. It has various modules that can collect data from sources or even edit the data collected from these sources. These modules are categorized into sources, location, number, string, URL, operators and user inputs.
Various blocks in Pipes:
Feed: User can fetch feed from an URL
Download: User can download a page
Combine: This block combines multiple feeds into a single one
Duplicate: This block splits a feed into multiple ones
Filter: This block lets user to search for items with a keyword
Unique: User can remove duplicate feed items using this block
Truncate: The number of items can be limited using this block
Sort: Data can be sorted by date
Extract: This block helps in extracting an element from a page or feed
Build Feed: Users can build a new feed from extracted elements
To know more about Pipes and use it visit pipes.digital.