Launched barely a month ago, the hugely popular Microsoft Selfie app for iPhone is now updated with easier social sharing feature and a better user interface. The app that counted more than half a million downloads in only two weeks of its launch received its first update with a redesigned logo and also a fix to a crash in airplane mode.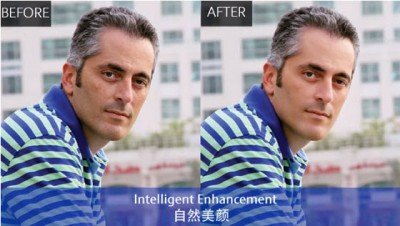 Microsoft Selfie for iPhone
Microsoft's Beijing based team who is behind this selfie app developed app released the update based on the feedback of the users. The Microsoft Selfie app is apparently company's first selfie and photo enhancement tool to debut on the iOS App store.
A blog post from Microsoft's Research team detail the modern technology that has gone in the app's development,
"The app leverages Microsoft Research's Face technologies to help determine the age, gender and skin tone of a person and avoid the exaggerated refinements that limit the effectiveness of other selfie apps. These technologies can be utilized by developers through Project Oxford, which also powers other experiences like How-Old.net, TwinsOrNot.net and MyMoustache.net".
Digital Face Clean technology remove wrinkles
With the latest updates, Microsoft selfie app has become more intelligent and useful than before. The addition of a new portrait enhancement technique called Digital Face Clean intelligently allows users to remove undesired features like wrinkles and baggy eyelids, at the same time preserving other characteristics like hair, mustaches, tattoos and accessories.
The app uses "Burst Images De-noising", a technique that intelligently judges light conditions, automatically enables burst shots and leverages multiple frames for better de-noising, thus improving image quality. The app's Selfie's Auto Exposure feature, can automatically detect a backlit photo and compensate the light level, said the company.
Peggy Dai, the program manager of the incubation team, said that the "Microsoft Selfie can produce professional looking photos".
The app is currently available only on iOS platform with no announcement made on its launch on Windows 10 or Android.
Microsoft Selfie app for Android is also available now.