Office Lens for Windows Phone from Microsoft which was introduced over an year ago has become one of the most popular free apps from Microsoft on Windows Phone. Now Microsoft has released Office Lens for iPhone and Android phones.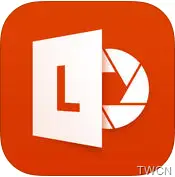 Office Lens for iPhone & Android
For those new to Office Lens,
Office Lens is a handy capture app that turns your smartphone into a pocket scanner and it works with OneNote so you'll never lose a thing. Use it to take pictures of receipts, business cards, menus, whiteboards or sticky notes. Office Lens crops, enhances, and makes pictures of whiteboards and documents readable and saves it to OneNote. Office Lens can convert images to editable Word, PowerPoint and PDF files.
Some of the features in a nutshell:
With Whiteboard mode, Office Lens trims and cleans up glare and shadows.
With Document mode, Office Lens trims and colors images perfectly.
Pictures can be saved to OneNote, OneDrive, or your preferred cloud storage.
Choose to convert images to Word (.docx), PowerPoint (.pptx), or PDF (.pdf) files that are automatically saved to OneDrive.
With such cool features, one can capture and crop a picture of whiteboard or blackboard and share your meeting notes. You can also make digital copies of printed docs, business cards, posters, sign boards and trim them. It captures business cards, and from there it can generate contacts, which you can add to your phone. Printed texts too will be automatically recognized using OCR technology. That will make words in images searchable and editable too.
Here's a 'before and after' look of a whiteboard picture – captured, processed by Office Lens and then providing various option to save in an iPhone. Similarly one can do it for receipts, paper documents, etc.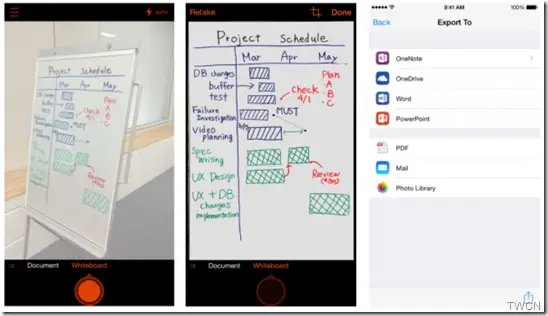 One can get Office Lens for iPhone for free at the Apple App Store.
Become a Tester for Android Office Lens
While for Android Phones, a preview of Office Lens is available today, with features similar to Office Lens for iPhone. To get Office Lens for Android, please follow these steps.
Go to Office Lens Android Preview in the Google+ community.
Click Join community in the upper right-hand corner.
Under About this community, click the Become a Tester link and then follow instructions on the page.
Extending OneNote capture capabilities to more devices is a significant step as Office lens is brought to iPhones and Android devices. If you are a Windows Phone user, you may have already been using this popular app. Now get it on your iPhone, Android devices too.
Announcing this, the OneNote team requested users to provide feedback and feature requests.