NASA and Microsoft have teamed up and are developing Project Sidekick, a new project in which International Space Station (ISS) astronauts make use of Microsoft HoloLens.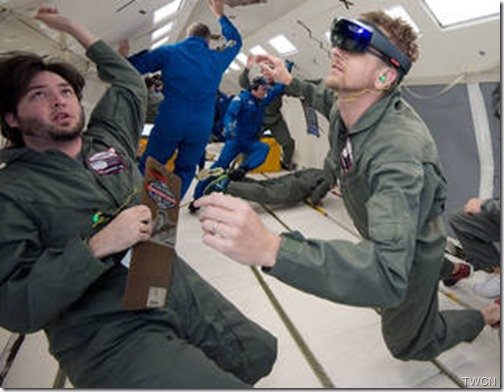 NASA in its press release said:
"Sidekick uses Microsoft HoloLens to provide virtual aid to astronauts working off the Earth, for the Earth. A pair of the devices is scheduled to launch on SpaceX's seventh commercial resupply mission to the station on June 28."
NASA also tweeted about it.
 Alex Kipman from Microsoft Windows and Devices Group said:
"Sidekick is a prime example of an application for which we envisioned HoloLens being used – unlocking new potential for astronauts and giving us all a new perspective on what is possible with holographic computing."
NASA and Microsoft engineers have tested this aboard C9 jet , NASA's weightless wonder to ensure they function as expected.
Sidekick operates in 2 modes. The first is the "Remote Expert Mode" which makes uses of Skype to allow ground operator to see what a crew member sees thus providing a real-time guidance. Then they will draw annotations into the crew member's environment to coach them in their task.
The second mode is "Procedure Mode",  in this the standalone procedures are augmented with animated holographic illustrations displayed on top of the objects with which crew is interacting. This will reduce the training which the future crews will require. This could prove to be invaluable resource for missions deep into solar system.
The Sidekick project is part of larger partnership formed by NASA and Microsoft to explore use of holographic computing in space exploration.
For more details, please check the source.
Update: 29/06/2015″ By now you must have heard about the SpaceX CRS-7 loss. Everyone is disappointed at the loss of the SpaceX CRS-7, but that's how the Space missions are. Hoping the future mission will succeed and the Project Sidekick will commence carrying the HoloLens.
Here's the official NASA administrator's statement on the loss:
"We are disappointed in the loss of the latest SpaceX cargo resupply mission to the International Space Station. However, the astronauts are safe aboard the station and have sufficient supplies for the next several months. We will work closely with SpaceX to understand what happened, fix the problem and return to flight. The commercial cargo program was designed to accommodate loss of cargo vehicles. We will continue operation of the station in a safe and effective way as we continue to use it as our test bed for preparing for longer duration missions farther into the solar system. A Progress vehicle is ready to launch July 3, followed in August by a Japanese HTV flight. Orbital ATK, our other commercial cargo partner, is moving ahead with plans for its next launch later this year. SpaceX has demonstrated extraordinary capabilities in its first six cargo resupply missions to the station, and we know they can replicate that success. We will work with and support SpaceX to assess what happened, understand the specifics of the failure and correct it to move forward. This is a reminder that spaceflight is an incredible challenge, but we learn from each success and each setback. Today's launch attempt will not deter us from our ambitious human spaceflight program."