Not long ago, a news reading application was released for iPhone, iPad and Android devices. It was named as Pulse. The award-winning application redefined the way people read news by introducing a brand new and immersive interface. The interface provided a beautiful visual layout for viewing the content from your favorite websites in the form of a colorful and interactive mosaic. Now, the same application has finally arrived on the web after getting the support of Microsoft alongside.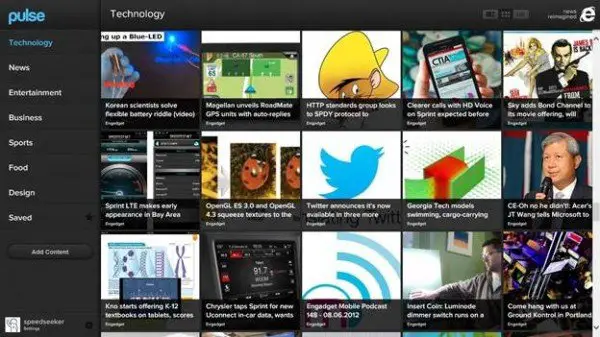 Named as Pulse.me, the new web version is entirely built from HTML5, CSS3 and JavaScript and has been optimized for touch-enabled devices especially, Windows tablets. Pixels Lab of 'Cut the Rope' fame has helped Pulse to build its web app after realizing that it would make a great app for demoing the advanced features of Internet Explorer 10 on Windows 8.
The web version comes after addressing the issues related to mobile experience and offers the same features as on mobile. However now, it wastes no single pixel and fills every edge of the browser window completely, thanks to Pixels Lab!
Stories now appear in a beautiful dynamic grid layout. Even the design is very responsive. Switching from dynamic layout (smart) to chronological layout (simple) has become much simpler and there's an easy infinite scroll that ensures you never run out of content to explore.
In addition to this, there are many simple and fluent touch-gestures that the web app supports. For instance, it just takes a swipe to switch between different stories, a two-finger swipe to open up the reading list and the standard pinch gesture closes an article.
Pulse was founded in May 2012 by two Stanford graduate students – Ankit Gupta and Akshay Kothari as a part of their course. Currently, there are more than 15 million people using Pulse.
To learn more visit Windows Team Blog and Pulse.me.