The launch of the Apple Watch witnessed almost 1 million pre-orders in three days time and to boost the sales further, the list of iOS apps with Apple Watch support continues to grow. Apple's smartwatch is geared up for something new. Yes, it is learned that scores of app-makers, including Microsoft, are looking forward to provide support for the Apple Watch.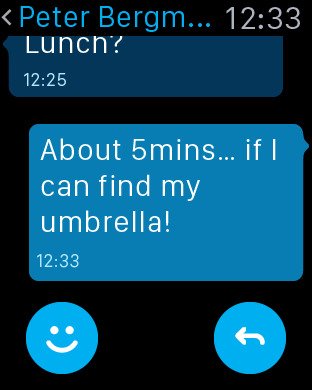 Apple Watch Skype Support updated
The news broke out when Microsoft announced it has added Apple watch support for Skype for iPhone. The Apple watch Skype support for Skype will enable users to reply to messages and start new chats/conversations directly on their wrist or use the voice for dictating a message to the watch. The announcement follows similar additions Microsoft announced for its PowerPoint, OneNote and OneDrive apps.
Here's the Changelog. What's New in Version 5.12.2
Now with support for your Apple Watch:
Reply to messages on your Apple Watch using voice to text, emoticons or quick prepared responses.
Start chats with your favorite contacts on your Apple Watch so you can do more on the go
General Improvements
In addition to "general improvements" to the Skype for iPhone app, the latest update will allow get Skype and Apple Watch users ability to reply to messages using voice-to-text, emoticons, as well as initiate chatting process with Skype contacts on-the-go.
Excited Apple Watch owners wanting to download the latest version of Skype for iPhone can grab it now. It's likely more robust features support for Apple Smartwatch will follow as the companies continue to update and build further iterations.