Spamtraps, Email Service Providers love them and spammers hate them! However, Spamtraps can be really useful in controlling the spam emails reaching your inbox. A report by MainSleaze mentions about the Spamtraps set in December 2016 by some of the popular ESPs, such as Dyn, Amazon SES, Oracle Marketing Cloud and IBM Marketing Cloud. Here is a glimpse of this report:
Spamtraps set by the ESPs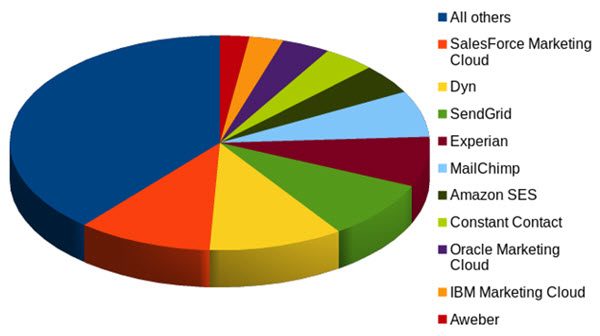 This report of Spamtraps set in December 2016 consists of 10 popular ESPs such as SalesForce Marketing Cloud, Dyn, SendGrid, Experian, MailChimp, Amazon SES, Constant Contact, Oracle Marketing Cloud, IBM Marketing Cloud and Aweber. According to the above chart, most of the ESP mail seen in spamtraps were of SalesForce Marketing Cloud. Aweber was at the lowest 10 level.
Another ESP Dyn, a cloud-based Internet Performance Management company, is on the second number of setting the spamtraps. According to MainSleaze, 93% of what Dyn is sending this month has to do with mailer-lite.com, a domain name registered anonymously in October 2016. This kind of domain name was chosen purposely. It was able to trap several illegitimate senders.
The spamtraps sometimes trap the good email senders too. There may be several reasons that a good email sender has hit the spamtrap. Sendloop too seems to be one of such falsely trapped email sender. It is a Turkish/US ESP of Octeth, Inc., founded by Cem and Mert Hurturk. They have a proper anti-spam policy and are sending so little to the spamtraps set in December 2016. However, may be some other spammer is using the similar name and serving as ESP.
MainSleaze mentions the number of spamtraps set in December 2016:
"The percentage of ESP sent mail vs all mail seen in the spamtraps is 3.1%. The amount of ESP mail was up 5% from last month, with the total amount of mail down 20% from last month. The top ten this month consists of the usual suspects aside from Dyn and AWeber. The edge Dyn had over everybody else has been dulled and they're now only just behind SMC (by a percent of a percent). AWeber has an ongoing problem with make-money-fast spammers (to an extent, combined with new TLDs such as .xyz, .club, .press, but not limited to them) that, in retrospect, was already evident last month when they were bubbling under at #11."
Understanding these numbers about spamtraps set in December 2016 will help a lot of email senders to protect their emails from hitting the traps. Read this report in more details on MainSleaze.