Outlook.com users earlier were allowed to import Gmail mails, but now Microsoft has made it much easier & convenient to switch from Gmail to Outlook.com. Microsoft today announced a service that will make easier than ever to import Gmail account to Outlook.com. After the launch of Outlook.com last year & later leaving the preview status it has become the worlds fastest growing email service.
Users like using it for its clean interface along with its smart and powerful tools. At the same time there are users who are not quite happy with their email service like Gmail users who are not happy with it is on the rise. And a recent study shows nearly 1 in 4 consumer would switch email providers if it was easier to do. The same study also highlighted most important areas which the consumer considers. These were :
clean email experience without hindrance of ads
advanced spam filters
easy-to-understand user interface
no scanning of emails to provide ads
Switch from Gmail to Outlook.com
Outlook.com has focused on these areas thus making a natural choice for those who wants to switch email providers. But a user who wants to switch may feel the process of switching email provider daunting. So Microsoft now has made it even easier for Gmail users to switch to Outlook.com. It has now provided the functionality right into Outlook.com where with a few simple steps it'll connect your Gmail account (using OAuth) to your Outlook.com account.
This will import your Gmail emails into your Outlook.com inbox and, because you've connected both accounts, your Google contacts will automatically appear in Outlook.com. The structure of your inbox, including read/unread status of your emails, will be preserved. The new tool will even set up your Gmail address as a "send-only" account so you can continue to send email from your @gmail.com address, right from Outlook.com, if you still want to.
Here's the overview of how the process work. Start the process here and sign in with your Outlook.com account. If you want all your mail from Gmail to be copied into a new set of subfolders, click Options and select that option, otherwise click Start.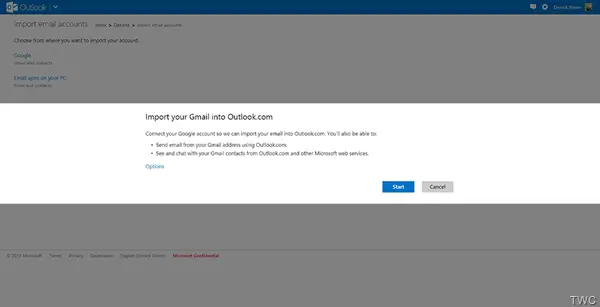 Then you'll need to sign in to Gmail and grant the tool access to your account. Once this is done, it'll start copying email into your account, and you'll be taken back to Outlook.com. No changes to Gmail will be made. The mail that's currently in your inbox will be copied from Gmail.
"Once you start the import process, we'll send you step-by-step instructions on how to set up email auto-forwarding. This enables your Gmail account to forward all your future email to Outlook.com."

The import happens in the background, and you can continue using Outlook.com or even log out while it's happening. Once the import is complete, a mail informing the same will be sent.
If one doesn't like , he can return back to Gmail and continue to use it again. But once you try Outlook.com and its smart tools, I'm sure you'll like it. Just give it a try as Microsoft makes it easier to switch from Gmail to Outlook.com.
Announcing the service, Microsoft said that the service will be rolling out to everyone over the coming weeks, so if you don't have access to it yet, check back soon.
If you don't already have Outlook.com account – get one – it's easy to get and easier to use!